What is your Reputation Score?
If you've ever Googled your name, you have likely come across a listing for Mylife.com. MyLife is a data-aggregate site that makes it easy to find personal information on anyone else throughout the web.
Taking more liberties with your personal information than others in the people-search industry, MyLife uses your online data to create a reputation score, allowing others to view your personal info and make an immediate judgment of your brand's image and reputation.
Reputation Score Scan
A comprehensive Reputation Audit provides invaluable insight into your company's online reputation.
Below, we look at what goes into your MyLife reputation score, how it impacts your digital footprint and how online reputation management can get both moving in the right direction.
What is a MyLife reputation score?
The MyLife Reputation Score provides consumers, clients and competitors searching your business an instant numerical value of your online brand image. While other data-aggregate sites offer address histories, court records or contact info for a small, one-time fee, MyLife generates your score using all records, details and reviews pulled from around the web.
To calculate your score, MyLife collects brand-centered data from:
Court and criminal records

Address histories and contact records 

Work history records

Financial records

Property records

Academic records

And more
Get Started For Free
Free forever. No credit card needed
Gain an invaluable insight into your company's online reputation.
If you are interested in learning how to improve your Reputation Score call us today.
Reputation score: How does the MyLife score work?
MyLife crawls public records sites and social media platforms across the internet in search of items that make up your digital footprint. After gathering all publicly available info surrounding your name, age, location, contact information, work history, court records, address history and so on, mylife.com uses that data to develop a background report.
Details from this report are plugged into the site's proprietary algorithm. This algorithm is used to calculate your approximate reputation score.
What is a good score on MyLife?
Request a Reputation Anaylsis or Call Us Now
A good MyLife reputation score is generally anything between 3 and 5, putting you on the high end of MyLife's 0-to-5 scale (0 being the lowest and 5 being the best). Once MyLife has run a check on your online reputation, your approximate score is presented within a 1-to-2-point range.
What details does MyLife provide?
MyLife's user-friendly dashboard features your reputation score and 
background report
 side-by-side. They also offer background data, which includes detailed information on what's out there about you on the web.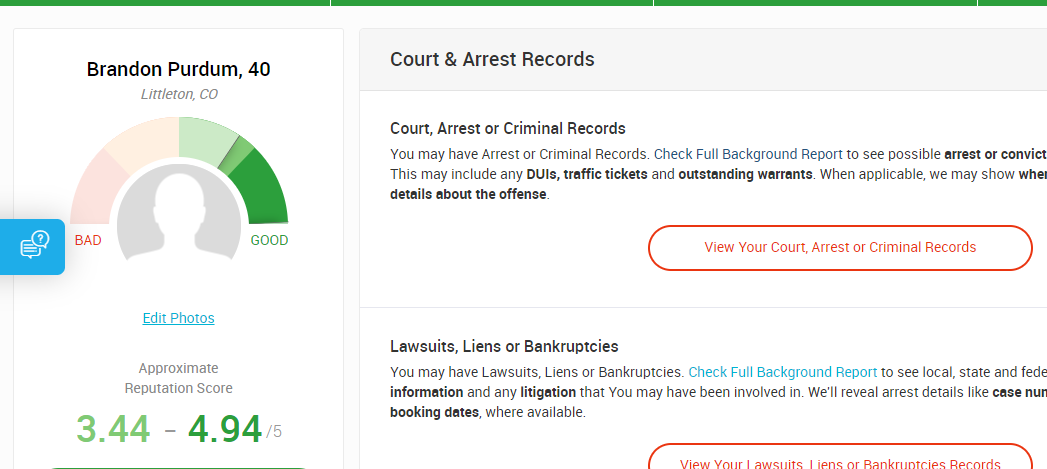 After scrolling through your customized report, you'll see a "brief" summary. It will contain your personal bio, home and auto ownership records, licenses and permits, court and arrest records, contact info, social profiles, & job history. And we can't forget about the links to family and friends' data.  The summary also includes any reviews or ratings people have posted about you online and attached to your digital footprint.
This is only the beginning, as more specific information can generally be accessed only after signing up with MyLife.
How does my digital footprint affect my MyLife reputation score?
Your digital footprint directly impacts the quality or strength of your MyLife Reputation Score in a variety of ways. Because each score is based on the records and info that make up your online presence, anything that portrays your online brand in a friendly or unfriendly light can move the needle and affect your score significantly.
And when such items begin to gain traction in
search engine results
(SERPs), their impact on your digital footprint grows. With heightened visibility, those results affect your brand image and reputation score with even greater intensity.
They have all this info. What can I do?
Personal data like phone numbers, work histories, and addresses being so easily accessible is a scary thought. With so many competitors, hackers and criminals waiting to use it against you, it's surprising that is still legal. 
Fortunately, a MyLife Reputation Score can provide an important heads up. It can serve to highlight digital items that pose a threat to your online privacy, as well as any online negativity that may threaten your reputation in the future. 
In a world where negative articles and online reviews can drag down your reputation and your business, staying a step ahead is crucial to protecting your business.
And with a complete picture of your digital presence, you can take steps to create the stronger, more positive reputation you need to increase sales and outperform the competition.
How can reputation management help with my MyLife score?
A customized, concentrated online reputation management (ORM) campaign can help improve your MyLife reputation score by:
Reducing the impact of negative reviews, articles and public information adversely affecting your brand reputation.

Creating and curating brand-positive assets that boost your brand image and search presence.

Crafting a

brand reputation

more resilient to threats and appealing to online consumers. 
Effective online reputation management can help take the sting out of a bad MyLife reputation score by putting you in control of your online brand narrative. While MyLife may point out potential issues affecting your reputation, a solid ORM strategy could be the lynchpin you need to fix your reputation score and restore your digital footprint.
How do I remove my information from MyLife?
For those with privacy and identity theft concerns, you can remove your personal information from MyLife.com by opting out. This can be done by:
Sending your opt-out request to

[email protected]

, or

Calling our Reputation Analysts at (844) 910-3519.
Either way, you should include such information as your first and last name, current and previous addresses and date of birth in your request (this is so MyLife knows the exact profile to remove from their site). Also, be sure to request your personal data be removed from ALL sites MyLife owns.
Your Online Reputation Experts
If you're looking to take steps to secure your online privacy and improve your MyLife Reputation Score, we can help. With next-level digital technology, insight and experience on our side, our team can provide the personalized online reputation management strategy and solutions to get your brand image back in the green.
Since the beginning, Reputation Sciences has helped thousands rebuild and restore a more positive image online. We help you carve a path toward a better, more rewarding future on the web.
Start now! Visit us today or call an online reputation specialist at 844-458-6735.
Get more #brandmanagement tips by following us on Facebook and Twitter.