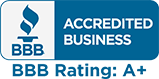 Online Reputation Repair Services
In today's marketplace, how you are perceived online matters. What people see when they search for your company's name, and what others talk about you on social media or online forums will reflect the quality of your products and services. A stellar digital reputation will open up doors to new opportunities, and positively influence both your personal and professional life.
On the other hand, a bad reputation will impact your chances of expanding, making new partnerships, and attracting new customers. Take steps to know and control your digital reputation.