Monitoring Your Digital Footprint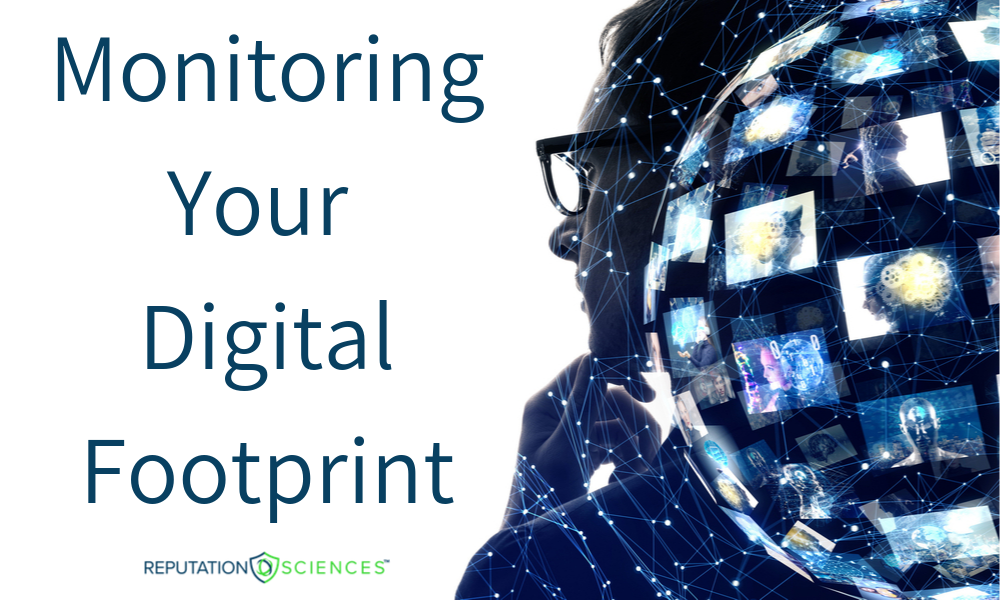 Monitoring Your Digital Footprint – These days, reputation management is a must-have for any digital marketing team. 
Without proactive, robust ORM anchoring your online branding strategy, you're liable to lose control of the message fast—leaving your narrative not only at the mercy of a chaotic online environment, but in the hands of angry customers and disgruntled ex-employees with nothing but an axe to grind and LOTS of time to take down your digital image.
And protecting your brand requires vigilance, not to mention reputation monitoring services that will alert you of problems before they erode your digital footprint. 
ORM puts you in control. Monitoring ensures you stay there
Effective reputation repair is essential to fix the damage bad reviews, negative social and libelous articles are doing to your corporate image—and to put your digital marketing team in firm control of your brand narrative.
But once your reputation has been restored, and you have a digital footprint that conveys authority and compels consumers to action, how do you keep it that way? In other words, what do you do to ensure your corporate brand stays at the top of its game—no matter the threats or challenges a dangerous, unpredictable digital environment is throwing your way?
With constant, vigilant online monitoring. 
Having a strong and profitable online image is great. But each second you're not actively tracking mentions of your brand provides yet another opportunity for upset customers, underhanded competitors and unhinged ex-employees to create a problem for your business—one that can spiral out of control if you don't deal with it immediately. 
So, how do I monitor my digital footprint? It seems like a lot of work
And it is. A LOT of work. But with the right commitment of resources, the right combination of digital tools and tireless dedication, you can take steps to monitor your reputation—and manage problems before they blow up your bottom line.
A simple Google search reveals an array of reputation monitoring services that, when properly pieced together, may provide the edge you need to stay ahead of online threats. 
Some of these include:
Google Alerts 
Google's monitoring tool allows you to set email alerts for search phrases related to your company—and notifies you regularly based on your preferences.
Trackur 
Trackur's social media monitoring tool claims to provide info and insight concerning your social presence and mentions of your brand across mainstream news sites.
Reputology 
Essentially an online review monitoring portal, Reputology offers info on business reviews posted on consumer and industry-targeted review sites around the web. 
Social Mention
Social Mention purports to offer social media monitoring and measurement of more than 80 sites, and to provide metrics on brand reach and customer sentiment.
Reputation Ranger 
Designed to monitor mentions for businesses in four niche industries—automotive, hospitality, home repair and food service—Reputation Ranger claims to offer real-time alerts and monitoring across "important" industry-related sites.
Reputation Health
Reputation Health is a review monitoring service focused solely on physicians and how patients impact a practice's digital footprint.
Chatmeter
Advertised as a local brand management platform, Chatmeter sends email notifications once reviews of your business pop up on local review sites.
Again, the right combination of tools, hard work and determination can make effective brand monitoring possible. 
But putting together the right monitoring strategy—and knowing which reputation monitoring services work best for your company—can be a challenge, requiring a significant commitment of time and resources once focused on your most important obligation: managing your business.
Don't take chances. Protect your profits with professional monitoring
Before spending hours or even days researching the right monitoring tools—or dedicating money and manpower to tracking (and reacting) to items that threaten your business online—consider the comprehensive reputation monitoring services of a proven online reputation team: Reputation Sciences™. 
As leaders in the reputation management space, our goal is to equip your business with the digital analysis, technology and technique you need to build a more profitable online image. 
And with a Reputation Sciences™ customized online monitoring solution designed to fit your unique brand, you have the power not just to optimize your digital marketing strategy, but to mitigate risks and protect your profitability well into the future. 
Creating a positive reputation is one thing. But with professional, 24-7 reputation monitoring services from Reputation Sciences™, you have the watchful eye needed to:
Know

when and where new mentions are made of your business just as soon as they happen.

Track and respond quickly

to online reviews on hundreds of review sites—and mitigate potential flare-ups before they go viral. 

Stay on top of your digital footprint

across all popular social sites and ensure you're in control of your brand's social narrative.

Prepare for digital crises

more effectively while minimizing damage to your bottom line.
And with every reputation monitoring service we offer, you have access to the reputation reinforcement and brand management solutions needed to strengthen your digital marketing strategy and fortify your corporate reputation against any future attack.
Through 24-7 monitoring, instant updates and in-depth digital insight, you're ready to evolve your brand and pivot your marketing approach whenever necessary—and maintain the robust, rewarding online presence that grows your business and unlocks its full digital potential. 
Customized reputation monitoring services that fit your budget
At Reputation Sciences™, we aim to provide reputation management and monitoring services that not only enable online success, but that allow you to protect your corporate brand without breaking your marketing budget. 
This is why our custom reputation monitoring solution starts at the low price of just $29/month, giving you access to 24-7 full-web monitoring that won't strain your bottom line.
And starting at just $250/month, our Executive Monitoring service delivers the advanced, comprehensive brand monitoring package your business needs to identify and eliminate threats quickly, ensuring your company's online integrity and authority are maintained across search engine results pages (SERPS).
To learn more about complete, 24-7 business monitoring that protects your entire digital footprint,  Call (866)427-2206 today. 
Get the latest on online monitoring and more by following our Facebook and Twitter.