Reputation Defender Can't Manage Their Own Online Reputation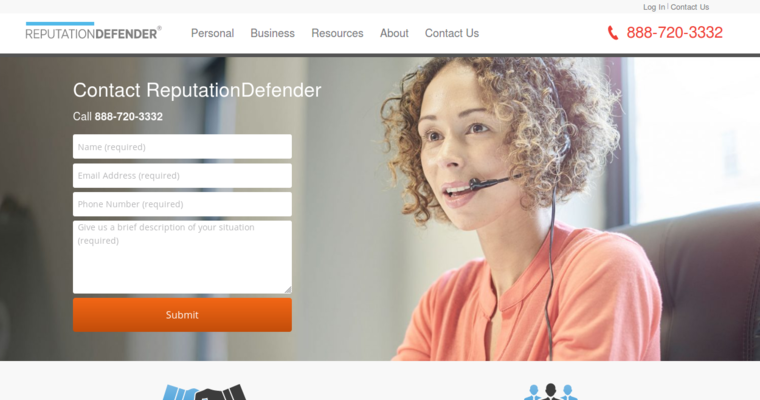 Reputation Defender and Reputation Management Services from leading companies often seem great on the surface. But what is hiding underneath? 
The Search Engine Optimization field, particularly Online Reputation Management, can be a minefield.
Due to the industry not being regulated, certain marketing firms can make unsupported claims, charge unreasonably high rates, and most importantly, not follow through on promises. This can result in unsuspecting customers losing thousands of dollars with nothing to show. This article will review Reputation Defender (ReputationDefender.com), a notable member in the field of online reputation management. If you are looking for a full-service reputation management company, you should consider NetReputation.com.
Who and What is ReputationDefender?
Reputation Defender is an ORM firm based in Redwood City, California, founded by Michael Fertik in 2006. They are a subsidiary of Reputation.com, with both operating separately from each other. Learn more https://en.wikipedia.org/wiki/Reputation.com. The company has received various investments ranging in value. They received a series of investments in 2008 that eventually totaled $41 Million by 2011. In 2018, the company was acquired by Stagwell Group. 
As 2021 kicks-off, ReputationDefender is widely promoting its services. You may have seen their commercials on TV or heard them through the radio.
With a large enough budget, this is, of course, achievable. To the average consumer in need of online reputation services, the company may seem like the first option after seeing their numerous advertisements. They are one of the only companies that promote these types of services to the masses.
Let's discuss a few of the industry world's hard truths, the secrets that corporate ORM firms like ReputationDefender and Reputation.com won't tell you.
The Challenges With Online Reputation Management
Everyone should realize that improving an online reputation is far from easy. Every campaign is unique and each requires a different method. You must also follow Google's guidelines. Not only that, but the algorithm is continually evolving. If the reputation strategy isn't adapting with it, the results will not be there. 
Not every solution works for everyone, and ORM firms' strategies must continuously be updated to match new guidelines, which leads us to the second hard truth. 
Reputation Defender: Is There A Desire to Succeed? 
Consider this: If these large companies get you the results you desire in 3 months, what does that mean? You stop paying them.  If they could stretch that time into 12 months, or even 24 months, knowing that they can achieve results in less time and cost, wouldn't they do so?
This seems to be the business model for ReputationDefender, which we will discuss below. Without industry regulation and a lack of focus on genuine results, they will continue to operate this way and profit from it, regardless of their success with online cleanups. 
Online Reviews For ReputationDefender 
You would expect that a reputation management company would have an excellent reputation online. However, this isn't the case for ReputationDefender. If you Google "ReputationDefender reviews," you will find these especially startling results on the first page: If you plan on spending thousands of dollars on these services, research the company first. 
You would think that the company would prioritize having a reliable and clean reputation.  It begs the question: Do they not care? Do they not know how to manage their reputation?
Another Look at What People Are Saying
Let's take a look at other online reviews and what people are saying about the company. From an outside perspective, it generally looks like people do not have good experiences.
BBB

Better Business Bureau relies on people to leave complaints or reviews for any business with substandard practices or behaviors. Businesses can then respond to any complaints or questions to have them resolved. For ReputationDefender, there are multiple complaints that were left unanswered.
PissedConsumer

PissedConsumer.com is a site that allows you to anonymously leave a review about a company. ReputationDefender currently has a 1.4 rating out of 5 over 34 reviews. One of the most helpful reviews, with 39 approvals, was posted in 2018:
After consulting with Reputation Defender over negative listings, I decided to go with another company but started receiving RD's promotional emails. I had made great progress pushing the links down with the help of another company, but in only a few hours the negative links rocketed to page 1 shortly before receiving offers from Reputation Defender.
It took several months to rebuild my reputation, but then coinciding with each email from Reputation Defender, the negative links rocketed back to page 1. Coincidence? I have heard many others say the same thing, but I could not believe it until I experienced it. What they are apparently doing is programming an SEO to boost negative reviews of listings you provide to them to coincide with their marketing program. I do not have proof per se, but this is clearly a comment complaint with this company.
This has jeopardized my job and made all my efforts and expenses wasted. Many others have said the same thing. RD, you would make more money if you actually helped people instead of jeopardizing their livelihood.
To all others looking to hire this company: WARNING! Do not even consult with their reps about negative listings. They will use the negative listings you create against you to market their program, extort money, or otherwise justify the business need for them.
Yelp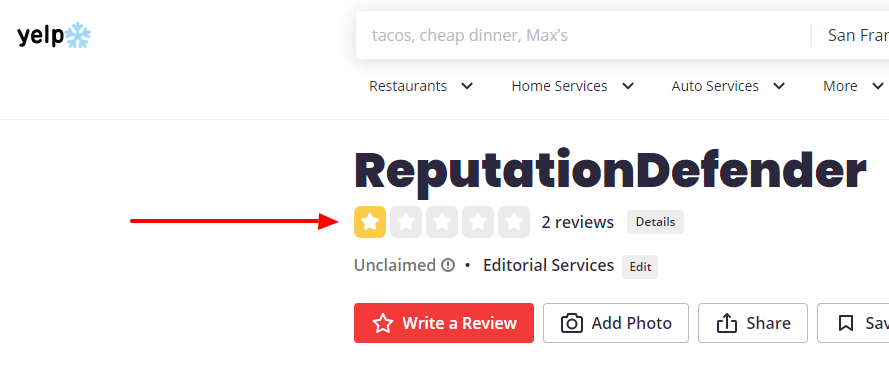 Yelp.com is a local consumer review platform that covers businesses in all categories and services. We have included a screenshot of the ReputationDefender.com account on Yelp.com above. 
SiteJabber
Let's look at some of the positive reviews on Sitejabber.com and the numerous 1-star ratings by customers. Here is a brief clip from a review written in December 2020:
The free offer is just to get your information to try and sell you an unneeded internet service. The information they collected was insufficient to identify me from others with my name. When they contacted me and I said their system is garbage, the response was "It's just a google search of your name!". Yes they used the exclamation mark in their response.
Another from July of 2020 states:
This reputation review was a joke. There was no specific personal information ever given, yet I was scored as a 'D' with no evidence presented.
One of the original reviews from 2014 goes more in depth: I hired Reputation Defender to try and suppress a bad reviewer that had surfaced on a high-ranking website. I was assured that if I paid $5000, the negative site would be buried by other high-ranking sites. A year later and not only has the negative site been moved in rankings, but there has been no sign of any work on behalf of ReputationDefender. There is no trace of anything that they could even take credit for as far as any type of promotion to my website regardless of not helping me suppress a bad review.
Suggestions If You Decide To Use ReputationDefender
We understand that many people choose ReputationDefender to help with their online concerns. After reading the reviews above, that may change. If you decide to give them a chance to improve and protect your reputation, here are a few pointers to make sure you are getting your money's worth:
Ask About Their Strategies
If they don't have custom strategies available for your campaign, they likely are not acting in your best interest.
Ask For Proof of Work
There should be detailed work happening in various sectors. They should be building websites, profiles, blogs, and creating excellent content. 
Ask About Their Success Rates
Ask how often they have success for clients. If needed to answer them, direct them to this article that shows their apparent lack of success.
Forget Reputation Defender: Try this company out instead: 
FREE REPUTATION ANALYSIS
The NetReputation brand has perfected the art after countless hours of creating successful reputation campaigns. We set out to be the front-runner of the industry. Clarity, affordability, and, most importantly, honesty sets us apart from these other firms. We would be happy to help with your online situation. Our technical team takes pride in succeeding in these campaigns. Our business model is based on results.
Contact us today at (844) 458-6735 for a free analysis. Thank you for reading, and remember to share this with anyone you know who has considered using NetReputation for their personal brand and online reputation.