Reputation Management for Executives: What It Is and Why It Matters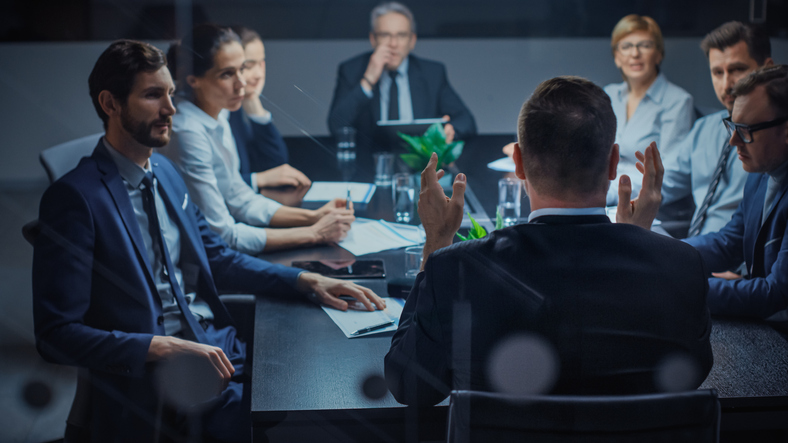 An executive's good name has always been critical to a company's success. And when building a successful brand, reputation management for executives is more important than ever.
Since about 2015, as New York executive management firm Weber Shandwick puts it, executives have become "socialized."
Constant exposure on Twitter, Facebook, Instagram, TikTok, Pinterest, and LinkedIn make proactive executive reputation management critical to success.
CEOs are the public faces of their companies. And CEO faces are now seen through the filter of social media.
Profit and stakeholder relationships continue to depend on how people perceive CEOs. Reputation management for executives is increasingly an exercise in managing social media.
The challenge of reputation management for executives is that not all executives recognize its importance. The Weber Shandwick survey found just 45% of global CEOs believe their company reputation depends on their own image.
What's more: just 44% of executives say that stock price is connected to CEO reputation.
Is there really evidence that CEOs simply don't know the importance of executive reputation?
Data on Reputation Management for Executives
Surveys don't just tell us that reputation management for executives is important. In fact, recent data tells us that half of customers make buying decisions based on where CEOs stand on social issues.
A 2018 survey in 2018 by Weber Shandwick and KRC Research found that:
Americans view CEO activism favorably. They expect business executives to influence public policy. Since this survey, Forbes has reported even greater pressure on CEOs to be socially responsible.
More Americans than ever believe CEO activism can affect public policy.
Some 42% are aware of CEOs taking a stand on controversial issues.
Nearly half of Americans believe CEOs influence government decisions.
About 40% of Americans believe CEOs have a responsibility to speak up on social issues. About 40% of Americans disagreed.
Almost 80% believe CEOs should promote their company values.
Most Americans approve of CEOs voicing opinions on equal pay for equal work, job training, and more.
Americans are making executive reputation a factor in consumer choice. Executives have reputational risks they have never had before. And reputation management for executives has never been more important.
Strategies for 
Reputation Management for Executives
The current information climate presents a number of issues for CEOs. Managing executive reputation requires discipline by the executive and a good support network to respond to crises.
Here's some expert advice for executives when it comes to building a better reputation:
Engage with employees and shareholders
A CEO should always be their company's biggest cheerleader. CEOs should maintain a regular online presence with employees and consumers to build credibility. CEOs need stakeholders to see them as essential to company success.
Be active and maintain a high profile
Ignoring social issues isn't an option. Weber Shandwick found that 81% of executives believe a visible public profile is important to success.
Stakeholders want corporate leaders to engage with the public. CEOs don't just need to hone their communication skills. It's not enough to be comfortable speaking in public.
These days, having an active social media presence is critical to a good reputation.
Own your name
In 2021, every CEO needs to own their name online. To that end, CEOs must own every domain name featuring their name. This is how you control the narrative and post positive info related to your brand.
Claiming your name on social media is also crucial. That's true even when CEOs have no real plans to use social media. After all, no CEO wants to learn their name has been hijacked.
Of course, whether you own your name online or not, you need to monitor the media. And tools like Google Alerts can alert staff of new mentions of your name whenever they pop up.
Post responsibly
As many know, tweets can go viral fast. And once a comment goes live, the user loses control.
Whether or not you allow it, anything in a tweet can be shared with anyone else at any time. Therefore, no CEO should post comments or photos on social media without careful thought as to how they will be understood or used online.
Be responsible
An arrest or personal crisis can quickly take over your search results. It can also quickly become what you are known for well into the future. That is, unless there's a change in the C-suite.
No CEO should overlook the value of staying out of trouble. Every CEO should present a professional image at all times. Harmful actions can cause problems later, making it harder to deal with crises down the road.
24/7 reputation management for executives

 
Every CEO needs to stay ahead of bad news. And working with a reputation management firm can help put things in your control.
In other words, reputation management services can take over when it's needed most.
But executives don't just need to stay ahead of bad news. They need reputation management to stay ahead of all the news. Professional ORM builds a personal brand that drives consumers to your company's corporate brand. It also builds public support and approval.
Your best option? Reputation management providers who are removed from company politics and focus solely on you.
Need help managing your reputation? Contact us today for your free Reputation Analysis. Call Us Today to learn more about our Online Reputation Management Solutions – ReputationSciences is owned by NetReputation.com