Social Reputation Management: Build a Better Brand Image Online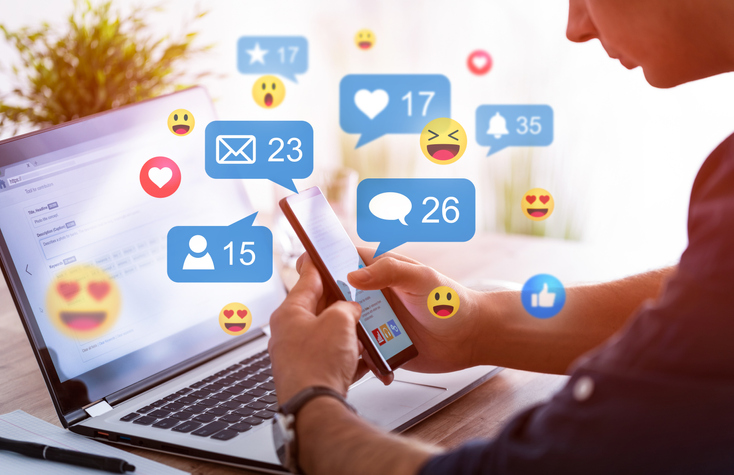 Social reputation management is vital to business today. In fact, most customers learn about your products, services, and reputation on social media.
What's more, a 2020 Trustpilot survey, found nearly nine of ten people read online reviews before buying a product.
More than ever, consumers use social media and Google to research your company.
Below, we look at social reputation, what social media management is and why managing your social brand is more important than ever.
What Is Social Reputation?
Your social reputation is how customers see your brand on social media. This includes reviews, comments and discussions about your business.
At the end of the day, your company's social presence is crucial to brand trust, authority and loyalty.
What is 
Social Reputation Management

?

Social reputation management is about managing your brand on popular social platforms. This includes monitoring social feeds, locating brand mentions and managing customer interactions with your business.

These days, your customers are online. And they're talking about you on platforms like:
Twitter
Instagram
Facebook
LinkedIn
Product discussions and reviews are also popular on sites like Pinterest, TikTok and Snapchat. In fact, you might even find conversations about your company on community discussion sites.
How Do You Manage Your Reputation Online?
First, check for brand mentions on Facebook, Twitter and other social sites.
Then, search your business online. Look for reviews and star ratings on Google, Amazon, and review sites like Yelp.
Listen to What People Are Saying
Social media management means actively listening to customers, employees, and other stakeholders. Social listening provides the insight you need to improve your reputation and deliver a better customer experience.
First, find an effective social listening tool. The right tool makes the process easier, allowing you to:
Track mentions and conversations
Monitor online reviews
Customize streams
Schedule posts
With an effective tool, you can set up real-time alerts with @mentions, brand keywords, and hashtags. You can also collect customer feedback. Tools like surveys, email, and feedback forms can help.
Next, it's time to monitor your brand on social media.
Social Monitoring
People share stories on numerous social sites. Social reputation management is how your business stays ahead of that conversation.
According to a Bizrate Insights survey, nearly 60% of buyers read Google reviews before visiting a business. A 2019 BrightLocal survey found three in four shoppers trust online reviews as much as word-of-mouth recommendations.
Not only that, but 97% of consumers also consider the company's response when making a decision.
This makes it important to monitor reviews and take action fast when new crises pop up.
And review monitoring is just the tip of the iceberg. Effective reputation management also means engaging with your audience.
After all, what happens when your employee and clients aren't happy?
How your organization handles negative feedback is critical to social reputation management.
Be Proactive and Ask Questions
Ask yourself: Do our reviews show happy customers? Should we respond to bad reviews?
Your organization should address concerns from customers and employees fast. Not only that, but you should always respond when someone praises your brand online.
When monitoring your company's reputation, respond to reviews quickly. And when replying to that feedback, be sure to:
Keep it personal.
Remain professional.
Always say thank you.
Move concerns offline.
Think of social reputation management as one part of the customer experience. It's not just about putting out fires. It's also about turning feedback into opportunity and setting expectations for your customers.
Put Content to Work
Remember: it's important to post new content often. This isn't just re-posting success stories and positive reviews. It's also about addressing customer comments and mentions whenever you can.
Posting and sharing new articles on social shows customers your profiles are active and relevant. It also shows you care about customer needs and building trust in your business.
Social media offers a great opportunity to promote your values and reach new customers. By sharing how much you care, you can connect with customers and employees in amazing ways.
How Do You Measure Social Reputation?
Measuring your social reputation means looking at metrics, such as reach. Your reach often reveals important insight into brand awareness and popularity.
Measuring your reputation also means knowing your share of voice across different social networks. This includes:
Impressions
Mentions
Shares
Hashtags
Comments
Create Guidelines and Train Your Team
Your brand reputation is too important to leave online comments and reviews alone. So as you develop your response plan, be sure to consider who monitors your reviews and comments online.
Ask yourself, "who is responsible?" and "what is the process?"
Once you have answers, you can build the framework needed to respond to reviews and improve your online ratings.
And when it comes to serious questions and problems, ask yourself "who is the person likely to handle those challenges?"
When you know who's managing the feedback process, you can tackle online issues before they become four-alarm nightmares.
Handling Negative Comments
Like it or not, you must deal with bad comments. And how you manage these comments is vital to your online success.
When it comes to handling negative feedback, understanding and care are essential.
This means never deleting customer posts. Deleting negative comments can make things worse and hurt your online image.
Instead, respond to the reviewer personally. Apologize for the issue. Meet them halfway. Seek common ground and find a solution.
Above all, remain professional. Don't argue on social media. Remember, there's always someone watching.
What Does a Professional Reputation Management Company Do?
It takes time to develop a consistent social reputation management plan. But with the help of a trusted reputation management company, you can build a strategy without dedicating endless hours or resources better spent elsewhere.
We analyze your reputation to identify the top search results for your company. Then, we group them into categories and analyze the results. From there, we measure the problematic, neutral and positive search results attached to your brand.
We then analyze competitors with similar names, brands, and services.
Once complete, our research reveals patterns we use to inform the next steps. Depending on what we find, we may combine removals and suppression with review management and more.
Next, we complete a gap analysis to understand key differences between competitor results and your company. The outcome outlines potential threats to your reputation and ways to improve it.
Strategic Planning
A strategic plan is key to building your online presence and improving reach across the web. We optimize search results and customize a reputation schedule to reduce negative impressions online.
And with a schedule in hand, we determine the best solution to repair and strengthen your online reputation.
Work With Net Reputation
Are you searching for a social reputation management company to improve your brand online?
We are a full-service ORM firm that develops complete solutions to repair your reputation. As an online reputation specialist, we focus on removing negative reviews, information, and comments from the web. We also create positive content to grow your brand and rebuild your image online.
Our proven approach cleans up your online reputation and builds brand recognition and loyalty. We create websites, business listings, and social media profiles that grow your online presence. We'll also improve existing assets that you control.
Our services help push down:
Internet slander
Public records
Online defamation
Complaint websites
Court cases
Litigation
If you need help with social reputation management, contact our Reputation Team today.