What the Rise of Online Reviews Means for Your Business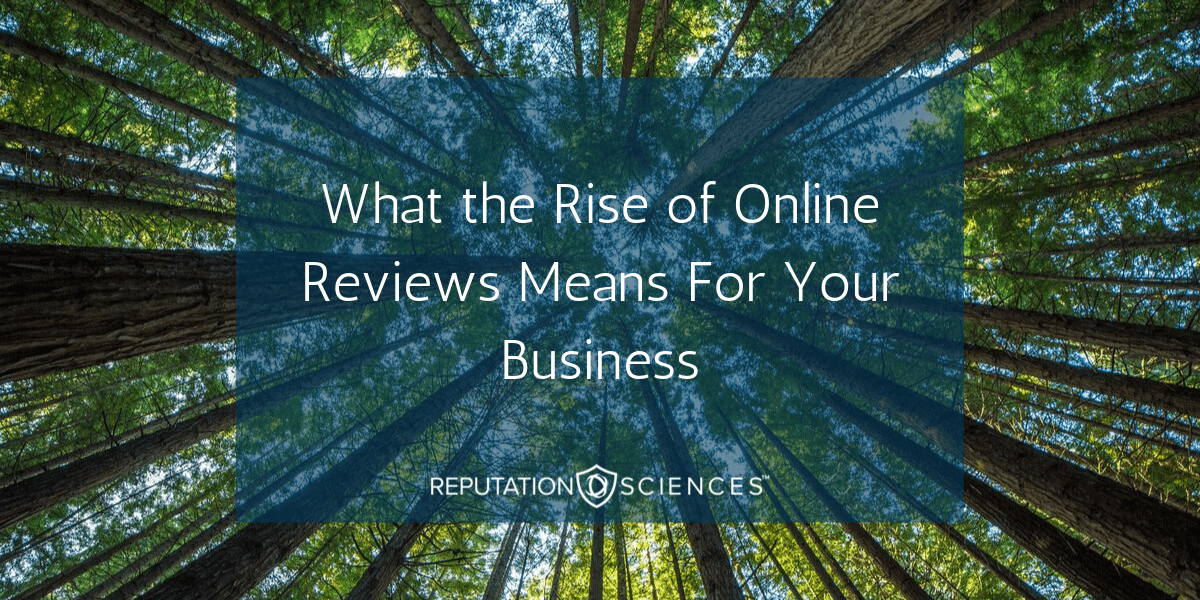 How important are online reviews? Can online ratings really make a difference for your bottom line? Do you want to learn what the rise of online reviews means for your business?
In other words, are online review management services really necessary?
If you're a business owner, consider this:
Still not convinced on the importance of customer reviews? Consider the impact of negative reviews, which is even more striking:
Like it or not, online reviews play a crucial role in the online purchase process—and are likely influencing your customers and affecting your business at this very moment!  
And without proven online review management services on your side, your brand's customer review presence may be costing you the trust, authority and positive reputation needed to build meaningful connections with customers and achieve your full profit potential. 
Online reviews can be good, bad or downright ugly for your business
One way or another, online reviews affect the quality of your online presence. And in the digital age, it's that impression that ultimately defines consumer interaction with your brand—not to mention how far it can go and how profitable you can be.
The Good
When you have positive reviews, consumers take notice—and are far likelier to take the next step. In fact, more than 68% report they're more inclined to use your business after reading about a positive customer experience online.  
Customers also tend to spend more when they find positive customer reviews, putting an average of 30% more money into your company after discovering good online commentary. Additionally, having five or more positive reviews nearly quadruples the likelihood of a purchase, providing even more incentive to control and improve your online review presence.
With the right online review management services in your digital arsenal, you not only know how to get those reviews to the top of Google search, but also how to give that glowing testimonial the visibility it needs to deliver incredible bottom-line results for your brand. 
The Bad
As we've shown, negative customer reviews don't sit well with online consumers, as just one bad comment has the potential to scare more than 9 out of 10 prospects away from your brand. 
Add in the possibility of losing 30 or more potential customers every day, and the cost of a bad review goes up fast, straining your ability to grow and maximize brand impact on the web.
With no online review management services or strategy to control negative reviews or rein in bad ratings—and to do so quickly—those bad items can pose a serious, reputation-eroding threat to your brand, one that not only festers but continually damages your integrity and while drying up your revenue streams.
The Ugly
Bad reviews are one thing. But when your customer review presence goes unmanaged, that negativity is left to the whims of an unpredictable, even dangerous digital environment—put in the hands of grumpy ex-customers and unscrupulous competitors looking for any opening to spread bad news and turn minor issues into major nightmares for your business.
Without a strong online review management approach at the ready—one that's both powerful and responsive—bad business reviews have the potential to take over your online footprint, hurting your integrity, damaging your sales and consuming your brand's potential for the long-term. 
How to get Google reviews that reinforce your online brand
To turn the tide on bad reviews and build a review presence that feeds your bottom line, you need a review presence that's positive, impact-full and visible to your target audience. 
And with comprehensive, customized review management services from Reputation Sciences™, you have just that: a powerful, proven way to manage your entire review presence, optimize customer feedback and increase sales for your business.
The Reputation Sciences™ review management solution provides a complete, all-in-one platform for comparing and contrasting brand reviews when and wherever you choose. Fueled by the latest in advanced digital technology, our comprehensive review portal allows you to track new customer reviews as soon as they're posted—as well as to respond to reviews quickly and in the way that builds confidence in your company. 
We give you the tools you need to capture, analyze and utilize customer feedback at your convenience. Our review solution also provides a simple, easy and effective way to request reviews at or immediately following the point of purchase, helping you collect and share positive customer feedback on your terms while optimizing your online review presence on Google.
Online Review Management Services that Maximize Digital Impact
Our online review management services are tailored to your unique brand, designed to help you build better, more compelling interactions with your customers. 
With our review management solution at your fingertips, you're able to mitigate the impact of bad reviews quickly while generating a more robust, positive review presence that produces results for your sales funnel. 
Starting at just $149/month, the Reputation Sciences™ review management platform provides a cost-effective way to get more positive Google reviews and carve out a stronger search engine presence—a comprehensive, automated tool for supplementing your digital marketing strategy and crafting a more engaging and profitable brand narrative on the web. 
Harness the power and potential of customer feedback with your very own Reputation Sciences™ review solution. To speak with a review management specialist, call (844) 810-6755 today.
Get more Reputation Sciences™ #brandbuilding tips by following us on Facebook and Twitter.