Google Autocomplete and Related Searches: SEO Shortcuts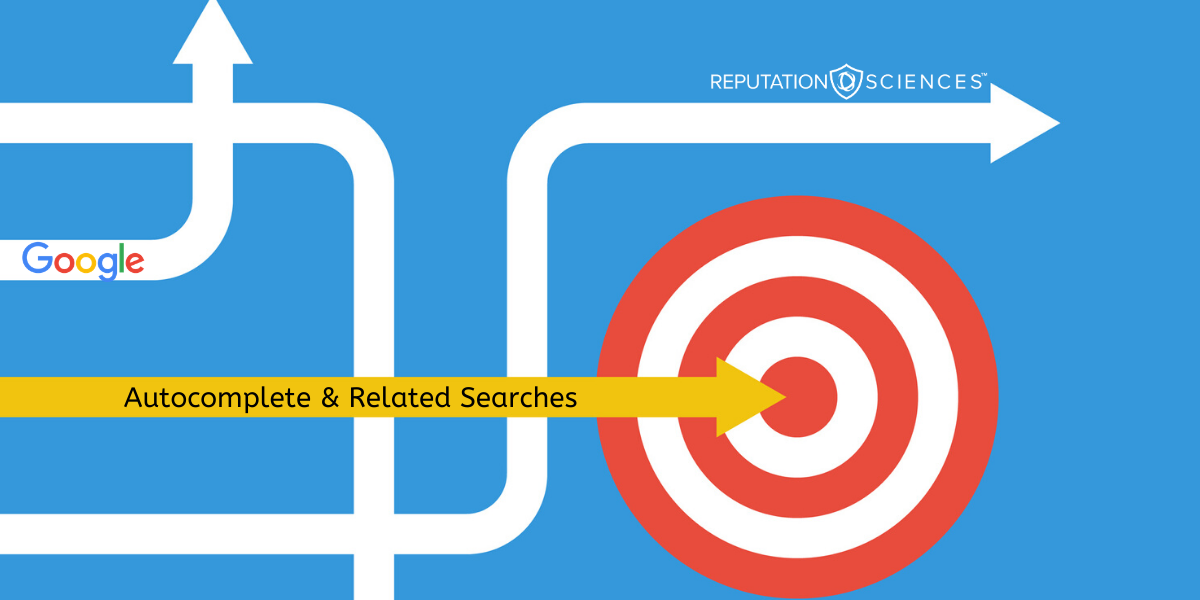 Google Autocomplete: Anyone who's ever typed a search request on Google has run into the company's autocomplete feature, that handy dropdown menu of suggestions for completing your query into a product or business.
But while these features can be great for the user, making the research and discovery process faster, they can also create a slew of problems for your business, generating negative values for your brand, creating real harm for your reputation. 
And when phrases like complaint, scam, or fraud start greeting consumers looking for your info, it's not just your brand's integrity and authority that takes a hit, but your potential and, ultimately, your bottom line.
Here's a look at the impact the autocomplete feature can have on your business, and how to change Google autocomplete results to start working in your brand's favor.
What Is Google Autocomplete?
The first step in how to change Google Autocomplete predictions and delete related searches is to understand what these features are, as well as how the search giant comes up with the suggestions showing up when someone searches your company.
The autocomplete was first introduced as a desktop search feature in 2004. Its purpose is and has always been to cut time out of the search history process by providing the user auto-generated predictions for whatever they may be typing.
It is generally believed that Autocomplete's algorithm generates any given set of predictions based on three primary factors:
The number of searches and user location

. This includes how many times the keyword is searched and where those searchers are located.

Total keyword mentions on the web.

Those that can be crawled by

Google spiders

.

Social mentions

, such as how many times a keyword appears on popular SM sites like Facebook, Twitter, and

WhatsApp

.
Right or wrong, these factors could be what's causing your Google Autocomplete headache, forcing you to search for affordable SEO services that can point things in the right direction.
What Are Google-Related Searches?
Like Google's Autocomplete feature, related searches offer predictions based on what the user is searching for. But unlike autocomplete, related search phrases don't necessarily include the original, word-for-word search (although they often do), but simply provide a list of searches related to that search — which are then listed at the bottom of the page.
It is believed that related searches are populated based on factors similar to those that influence Autocomplete, with the most popular appearing at the top.
So, while Google-related searches don't ease the typing process in any way, they do get top billing on results pages, and provide convenient shortcuts for customers searching for info on your business. 
And when something bad is listed in a related search for your brand, you may be scrambling to learn how to delete it and restore your reputation in a hurry. 
How Do These Features Affect My Business?
As we know, Google Autocomplete and Related Search were designed to make the search process easier and faster for the user. 
But while such tools may save searchers time, they often have significant consequences for your brand. In many cases, such tools not only help nurture negative associations with your business. They can drastically alter the buyer's journey, hurting your ability to communicate your values, cultivate trust and compel customers to take the next step. 
When words like "scam," complaints" or "lawsuit" start appearing in predictive or related searches, the results can be devastating for your brand. 
What Happens When Negative Terms Show Up
People are drawn to the negativity

, and to the harmful link or content that Google now associates with your business.

Consumers then start to increase visits to the harmful content that initiated those search predictions in the first place. 

Google's crawlers take notice of this increased activity, boosting the authority of that negative link and giving it even higher visibility in search results.

With more prominence in

organic search

, that damaging content gets more attention than ever. And the longer you fail to change

Google Autocomplete,

or take action to delete

related searches

hurting your brand, the more your reputation, authority, and credibility are eroded online.

As your online integrity suffers, so does your ability to attract new customers, or even to keep the ones you've got. In the long run, such reputation erosion can mean a loss of revenue, the destruction of opportunity, and the inability to compete with others in your industry. 
Without an effective, affordable SEO strategy or services to tackle your Autocomplete problem, your business edges ever closer to the point of no return. This is a position from which your company's shrinking integrity, potential, and profitability may be impossible to restore.
Ok, So How Do I Change Google Autocomplete?
Influencing or changing Google Autocomplete directly is impossible, as the feature generates predictions automatically through a specialized algorithm. 
What you can do, however, is trying to change your brand narrative to bulk up your search engine presence organically through the combination of SEO shortcuts and multilayered strategies. This will combat the negative item that created the lousy prediction in the first place
Know Which Predictions Are Harming Your Brand
Step one is to identify the negative terms that most often pop up in searches of your name. For example, if searchers continually receive such suggestions as "bad reviews" or "complaints," when searching your brand, those will be the terms you'll want to target throughout your autocomplete campaign. 
Once you've listed the harmful predictions affecting your brand, you may want to cross-reference those terms with Google's autocomplete policies, as Google will remove any terms it deems in violation of their TOS. These include predictions that:
Are sexually explicit and not related to scientific, medical, or sex education topics.

Are hateful against individuals and groups based on religion, race, and several other factors.

Depict or describe violence.

Promote or imply dangerous activity.
Though it's unlikely your business is getting this type of search treatment, it's important to run negative items by this list first, as it may provide an effective SEO shortcut for changing your Google Autocomplete suggestions. 
Take Control Of Your Social Media
Because social media is such an important factor in Google's Autocomplete algorithm, a strong social media branding strategy that reinforces positive brand connections is key to improving your Autocomplete presence.
Maintaining an active, consistent, and engaging brand image across social helps strengthen your message while overshadowing the negative items causing bad predictions. It's also a key component of ORM (online reputation management), helping ensure your brand has the relevance and authority needed to attract consumers and manage crises quickly and effectively.
A consistent, positive social media strategy is central to developing a more robust online footprint and countering predictions that are draining your potential. 
Reevaluate Your Digital Marketing Approach
Your digital marketing strategy is your primary vehicle for distributing your overall brand message across the web. And for reaching new customers!
Ensuring your approach is conveying your values and your message consistently across all online profiles, platforms and ads is what gives your brand its online heartbeat and helps mitigate the impact of negative Google search predictions.
If you're really committed to learning how to change your Google Autocomplete listings for the better, you may want to reevaluate your existing strategy — and make the tweaks or adaptations needed to align your approach against the malicious items causing you so much harm. 
How Do I Delete Related Searches On Google?
Your approach to deleting related searches on Google will likely look much like your strategy for changing autocomplete, including identifying which keywords you're up against, realigning your social, and pivoting your digital marketing efforts to build out a more robust, reinforced online footprint.
But to improve your brand's standing in Google related searches, there are a few SEO shortcuts to consider, including:
Monitoring your related searches. Ongoing monitoring of how many users are searching your brand's negative phrases — as well as the user intent behind these queries, and if they change over time — can provide invaluable insight into their impact and how they're affecting your revenue.
Improving your clickthrough rate (CTR). Beefing up your Meta Titles and Meta Descriptions with more favorable search terms based on searches can help enhance each page's search relevance, and may help elevate the quality of related search results. 
Researching keywords. Free keyword research tools like Keyword Tool and others can provide ideas for long-tail keywords to incorporate into your content marketing strategy and strengthen positive brand-keyword associations Google's algorithm is more likely to pick up.
Knowing your target audience. Performing research on your target audience and what they're looking for when they seek info on your brand can help you build a presence that's more user-friendly, and attract attention for the right reasons. 
Optimizing your images. Creating quality, keyword-based alt text and file names for images may help strengthen your brand in related searches that include displayed images. 
Keep in mind that there is much overlap between the methods to change Google Autocomplete and delete related images damaging your brand. Employing a comprehensive ORM approach that manages both simultaneously is likely the smartest and most effective way to go.
Have a Google Autocomplete Problem? We Can Help
Taking on the power of Google search to protect and preserve your brand is a lot of work. It requires a commitment of time, labor, expertise, and perseverance to ensure your business is performing its best in SERPs (Search Engine Results Pages) and across the web.
But with a customized, Google Autocomplete solution from Reputation Sciences™, you have the full, ongoing support of an affordable SEO services team on your side. One equipped with the Autocomplete technology and expertise to repair your search issues now, and to provide your brand the position and confidence to defend and define itself online.
As leaders in Online Reputation Management, our aim is to empower your online success. This is why our autocomplete repair team develops strategies strengthened by technology and proven to deliver tangible results for your bottom line. 
With Autocomplete Repair from Reputation Sciences™, you have the opportunity to:
Use SEO shortcuts to fix negative Google search predictions damaging your brand. 

Improve your position and results in related searches quickly.

Reduce the visibility and authority of negative items across the web. 

Create positive associations with search terms your customers are looking for. 

Improve interaction and engagement among consumers.

Make it easier than ever for customers to locate and do business with your company.

Increase sales and identify new growth opportunities.
Built by SEO experts and supported by advanced technology, our Autocomplete Repair solution goes beyond damage control to supplement your ORM strategy and take your digital marketing team to the next level.
I Don't Have a Reputation Problem. Can Autocomplete Repair Help Grow My Brand?
Absolutely! Reputation issue or not, our cutting-edge autocomplete repair services can help change your autocomplete suggestions and related searches to grow your audience, increase traffic and solidify your brand as the go-to in your industry!
With comprehensive Autocomplete Repair from Reputation Sciences™, your business can build meaningful, lasting connections with the short and long-tail search terms people use to find what they're looking for — putting you in the driver's seat as the brand customers turn to first for what they need most. 
And as part of our award-winning ORM suite, Autocomplete Repair provides just one more proven way to protect and defend your business while growing a more profitable brand online — an affordable SEO and ORM service that helps unlock your full potential!
Learn more about our powerful Autocomplete Repair solution and how it can change your Google Autocomplete by contacting us through our website, or calling 844-458-6735. 
Follow us on Twitter and Facebook for more #ORMtips and steps you can take to control the online conversation. Call Us Today to learn more about our Online Reputation Management Solutions – ReputationSciences is owned by NetReputation.com