Remove Bad Reviews: Bad Reviews Directly Affect Your Profits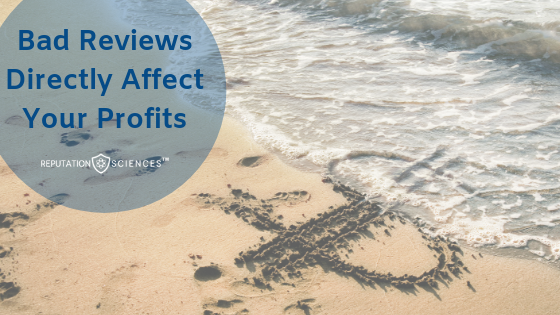 Remove bad reviews because just two negative items in Google's first page search results can cost a business over 44% of sales. 
If you have three bad reviews, that number climbs to more than 60%. Have four or more? Your business risks losing over 70% of your target audience right out of the gate.  
Your online reputation has a direct impact on your business's profitability. 
The sooner you familiarize yourself with online reputation management (ORM) and review management services, the better. 
Today's Consumers are Tech Savvy 
Recent studies show that 90% of today's consumers read online reviews before engaging with a business. 
Why? For one, researching brands and locating online reviews is easier than ever. Today's tech-savvy customer can use nearly any device to search your brand and comb through results in seconds.
Just one search provides that prospect instant access to your brand's dirty laundry. From negative links and bad reviews to outdated information and even outright lies, it doesn't take much to see it all.
In a world where you could lose 22% of customers with one negative link, bad reviews have the potential to sink your bottom line.
Your business is under constant customer scrutiny. Without review management and ORM, you're leaving your brand open to a profit disaster.
Consumers are Comparing You to Your Competition 
When consumers begin to research a product or service, they generally head to Google. As they sort through brands on the web, those customers tend to choose the company with the best reputation. 
Your business is held up and compared to your competition every day. If your competitors have online reputation management—and you don't—your brand is likely falling behind. 
But, all hope is not lost. With online reputation management services, you can improve your ratings and search results.
For each one-star increase your business receives on popular review platforms, you're likely to experience a 5-9% improvement in revenue. With strong review management and ORM on your side, the possibilities are endless.
Bad Reviews = Less Profit for Your Business
If bad online reviews are turning customers away, the result is fewer leads and a lower bottom line. 
If your business is struggling with negative reviews, don't despair.  
To stop the bleeding—without adding hours of work for yourself every month—you'll likely need to delegate. ORM professionals trained in review management can be an excellent option for regaining control of your image, impact, and bottom line.
As many as 40% of consumers consider only those reviews written within the past week. More than 89% of consumers read businesses' responses to reviews, so they'll see how you handle these situations. 
With the right review management strategy—including fast response times and efficient feedback collection—even a business with bad reviews can recover and profit. 
Get Ahead of the Curve & Remove Bad Reviews
Many companies lose their edge—and their foothold—when they fail to stay ahead of the curve. Without the right amount of foresight or commitment to innovation, your brand could quickly become a footnote.
Take Yahoo!™ for example. Though an early internet pioneer, Yahoo! began to decline in the late 2000's. Microsoft once offered to buy the company for $44.6 billion and received a rejection. 
Today, Yahoo!™ is valued at $5.17 billion, and it continues to decline. Many believe this fall is a result of the company's failure to remain relevant and useful—and to adapt to an evolving digital landscape. Others credit Yahoo's slip to repeated security breaches, as well as the bad press that followed in their wake. 
While you may not be building the next Yahoo!™, your business runs the same risk of failure if and when/if you fail to adapt. The same goes with strong review management and online reputation management strategies—without which you're almost always doomed to online obscurity.
Remove Bad Reviews – Ready to Act? 
If you're ready to do something about negative search results, you're looking in the right direction. Implementing brand-focused online reputation management and review management solutions can help you manage negativity and restore a more positive online image. We can remove bad reviews for your business and increase revenue.
If you're struggling with negative search results, now is the time to act. Online reputation management can help fortify your brand and limit the impact of bad reviews on your image and profitability.
Take a minute to assess your business reputation. Perform a quick Google search and ask, "Could it be better?" You have nothing to lose—and quite possibly everything to gain. Act before it's too late.  
To shine up your image and increase profitability,  visit Reputation Sciences™ today!