Reputation Management for Physicians: What You Need to Know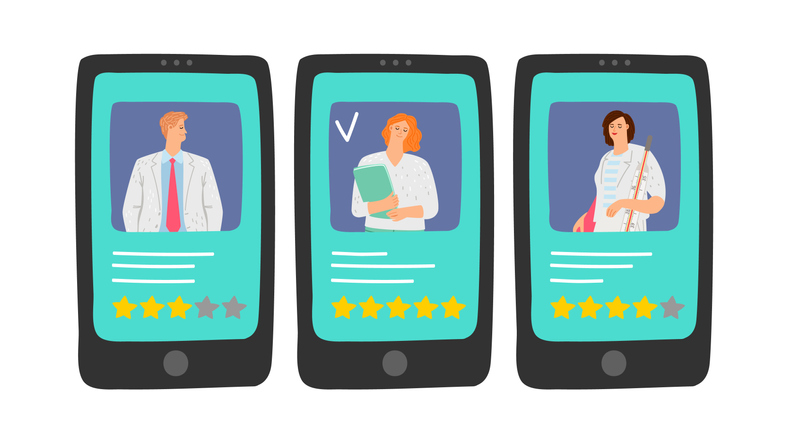 What is reputation management for physicians? Learn how managing your online reputation can help you boost your practice and reach more patients than ever.
The digital age has changed dramatically the way consumers "shop" for doctors. Traditionally, a person went to the doctor that their family used. If they moved, they'd ask a friend or a co-worker for a recommendation. Rarely did healthcare consumers look at a doctor's education and medical ethics records.
Today, all that has changed. Doctors are reviewed online just like restaurants, plumbers and landscaping professionals. Nearly three-quarters of all healthcare consumers say that they viewed online reviews before seeing a doctor.
Unfortunately, while most reviewers are honest, there is no review of the reviews and disgruntled or dissatisfied patients can and do leave the occasional bad review.
A busy physician might not even realize a bad review has been posted online until a patient, a friend or a family member brings it to his or her attention.
A single bad physician review can have significant consequences for a physician's practice. After all, we are talking about people's health…and that of their family members. Fair or unfair, a bad review can cause patients to switch doctors or chose another doctor if they are new to the area.
What can a physician do about negative online reviews?
The first thing a physician needs to do about a negative review is to honestly evaluate it. Is there even a germ of truth to the complaint? Maybe it's an honest assessment that they had to wait a long time to see the doctor or that the parking for the office is inadequate.
If the review is simply malicious, profane or wrong, a physician can contact the review site that posted the negative review. Most online review sites will take down reviews that use profanity or can be proven to be fake, as in cases where the reviewers never saw the physician.
However, they typically won't edit or remove a review just because the doctor disputes what it says.
Can a doctor sue a person who left a bad review?
Yes, a doctor can sue a person who leaves a bad review about them online…and, in many cases, he or she can win the case. However, the cost of bringing such a case needs to be considered.
First, there are court and legal costs to consider. In addition, other patients and potential patients may side with the person who left the review and feel that the doctor is persecuting them.
This can have an adverse effect on a medical practice even if the doctor wins the lawsuit.
It's a different situation when the review is mean and malicious or when a person repeatedly slams a doctor unjustifiably. In these situations, a doctor should contact a lawyer to contact the person and request that they cease these actions immediately.
How long do bad reviews stay online?
Unfortunately, bad reviews can stay online indefinitely. And, there's no way to remove legitimate, negative reviews from sites like Google, Yelp! Healthgrades and Doctor.com. However, you can mitigate the effects by taking action.
First, you can respond to legitimate, constructive criticism. For example, if the review says that there's always a line at the desk to pay a bill after an appointment or that the reviewer always gets put on hold for a long time when she calls, acknowledge the fault and explain what you and your practice are doing to solve the problem.
It's also a good idea to thank the poster for his or her feedback. This looks much better than leaving unanswered, negative reviews to collect about you on review sites.
Another thing you can do is to encourage your satisfied customers to post good reviews, effectively burying the bad review. Then, new viewers of the site will see multiple good reviews to the single negative one.
However, avoid the urge to fabricate good reviews. Not only is this misleading and unethical, but it can also backfire if your actions are uncovered.
Having a good, informative website and social media pages can also help combat negative reviews. Some bad reviews are caused simply because of incorrect information the patient found online, such as Google listing your hours or your office phone number incorrectly.
When you have your own pages, you can provide the information your patients need for a good experience with your office.
In addition, a good digital presence helps to build your brand and shows potential patients that you are professional.
What is 
reputation management for physicians

?

All of these mitigation efforts can be time-consuming and take a physician away from his primary business…guarding and improving patients' health. Fortunately, there are companies, like ours, that help physicians and other medical professionals manage and improve their online reputations.

Part of this service is to help with negative reviews.

First, we set up alerts, so you are quickly aware of negative reviews and, thus, can respond quickly and appropriately. In addition, we are proactive about managing your reputation and help you to get real, positive reviews for your practice, so that one occasional bad review doesn't have such an impact.

Every medical practice is unique and everyone's online reputation situation is unique. That's why we customize our services and our prices to best suit your needs.

Obviously, a doctor simply wanting to beef us his online presence with some additional reviews is going to require less time and resources than a doctor who has been the target of a deliberate negative review campaign.

We take the time to understand your practice and your situation before we outline a plan and give you a cost estimate.

We understand that you have plenty to do with your busy practice without monitoring all the review sites daily. That's where we can help. To learn more about reputation management for physicians or to set up a free analysis and cost estimate, visit us online. Call Us Today to learn more about our Online Reputation Management Solutions – ReputationSciences is owned by NetReputation.com