Reputation Management for Dentists: Why You Need It Now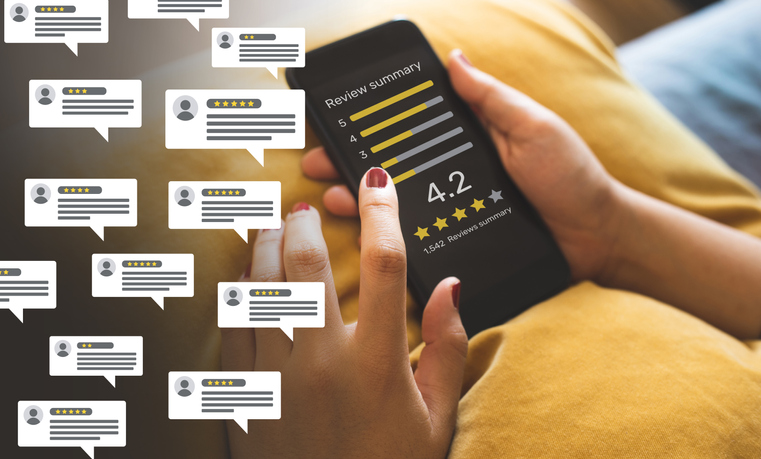 What is the big deal with reputation management for dentists? In order to attract new clients, most businesses now rely on their online reputation and ranking. That's because potential patients carefully watch what existing customers say about your skill and care.
According to a recent survey:
About 93% of consumers search for local businesses at least once a year, and 34% do so daily.
Also, 87% of consumers rely on online reviews to help them choose a company.
Nearly one-third of consumers read online reviews more since the pandemic.
With over 201,000 dentists in the United States, patients have more choice when it comes to dental care than ever before. Make it easy for them to find your business online to increase your new patients and help your practice thrive.
Do Dentists Need Reputation Management?
Yes! online reputation management for dentists helps dental practitioners learn what customers are saying about their practice. Generating positive reviews online can attract new patients or cause existing ones to look elsewhere for their oral health care needs. Although you're online and offline reputation matter, digital reviews carry a lot more weight these days than word of mouth.
Can Reputation Management Help Me Rank Highly on Search Results?
Absolutely! Online reviews appear on third-party rating sites like HealthGrades and Google. Garnering better reviews helps you appear at the top of these search directories.
On the other hand, some dental practices are barely active online. With no reviews or poor ratings, your online reputation can actually hurt your practice. If you want to increase your revenue and draw in new patients, reputation management for dentists counts.
What Are the Best Practices for 
Reputation Management for Dentists

?

Encourage clients to give their feedback online, especially if you have developed a strong rapport with the person. Actively manage online reviews. This strategy includes replying to poor reviews with offers to correct the issue. You can also use this opportunity to set the record straight.

When you manage your online reputation, you won't get blindsided by negative reports about your business. On the other hand, don't shy away from asking for reviews for fear of negative comments. Every business gets negative reviews once in a while. Use it as an opportunity to improve your business and attract more patients.

You should also claim your business on review sites and business listings. Dozens of directories list local businesses. By claiming your business practice, you can ensure that your contact information has been listed correctly. It also gives you insight into what customers are saying about you on each site.
What Benefits Do I Gain from 
Reputation Management for Dentists

?

Reputation management for dentists has the following benefits:
Allows you to embed

reviews from Google

, Facebook, and Healthgrades on your website.
Improves SEO performance.
allows you to address negative reviews.
Generates website traffic that you can use to increase your new patient count?
Provides a fast, easy way to manage your reputation online.
How Can I Rank Higher on Search Results?
Garnering positive reviews gives you the best opportunity to increase your ranking on search results. Reputation management for dentists helps you to build trust. Once you begin receiving positive feedback, your search results will improve dramatically.
Investing in reputation management software and outsourcing this important function gives you the opportunity to concentrate on your business. Meanwhile, working with experts allows you to grow your client base.
How Can I build Trust Among Potential Patients?
Many people trust online reviews at least as well as personal recommendations. However, people are pretty good at spotting spammy or fake reviews. That's why it's a good idea to encourage all patients to leave online comments about your dental practice. Consumers appreciate authenticity, and most people realize that there's bound to be one or two bad reviews based on personal preferences or unusual circumstances.
How Can I Get Instant Feedback From Happy Patients?
Ask your clients to go online and write a review as soon as they are done with their appointment. You can also invite comments and feedback on social media or through email if patients give you their information.
Do Well-Run Reputation Management Campaigns Drive New-Patient Growth?
If you have just opened your practice or recently moved to a new area, you may need some help getting the word out about your services. Spending money on SEO campaigns on Google Ads can improve your search results. However, too many dentists spend money on SEO management only to ignore their online reviews.
FAQs for 
Reputation Management for Dentists
How many reviews should I target?
You want at least one review each month. Ideally, you can gather reviews on Google and Facebook. Typically, one new review per week can help keep you at the top of search rankings without arousing suspicion. For example, getting ten reviews at the same time and then none for over a month may raise red flags among both Google and potential clients.
Does Google care how many reviews I get?
Yes. The number of reviews and actual ratings impact your Google search rankings. However, it's not clear how much since Google keeps its search algorithm a closely guarded secret.
Remember that Google wants to make search results helpful to browsers. So, if someone's searching for a local dentist, those with good reviews will float to the top of the list.
Should I respond to every review?
Yes. Many businesses, not just dentists, respond to negative reviews but ignore positive ones. By taking the time to personally acknowledge a reviewer, you may attract patients looking for a responsive dental care provider. Additionally, Google will give you credit for engagement by improving your search ranking and indexing your replies.
Can I Have a Contest Rewarding Patients Who Leave Good Reviews?
This is a very bad idea. You may not get caught, but if you do, Google and other search engines will demote you in search results. Also, there are definitely better ways to promote your business.
Contact us now to learn how reputation management for dentists can boost you to the top of search results. Call Us Today to learn more about our Online Reputation Management Solutions – ReputationSciences is owned by NetReputation.com