How to Remove Bad Yelp Reviews: Tips for Effective Removal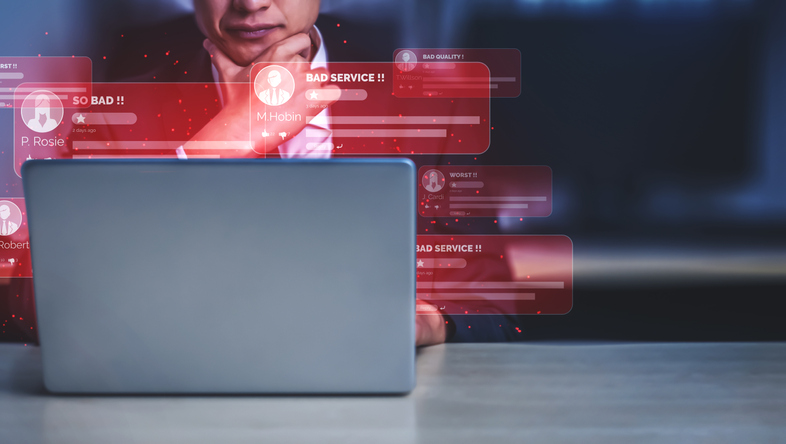 A clean and professional Yelp review profile is extremely important to small and large companies. This article will walk you through the process if you want to remove Yelp reviews.
A fake Yelp review or negative Yelp review can be detrimental to your business. If most of your Yelp feedbacks are negative, this directly affects a customer's trust in your business.
No matter your SEO, marketing, or actions towards quality assurance, if your business profile is still bombarded with bad reviews, this significantly affects how potential customers look at your business. When you remove Yelp reviews, you are not doing anything illegal or malicious. You must report review posts that are libelous, fake, defamatory, or considered blackmail.
If your positive reviews are hidden underneath negative reviews, take a second look to see if these negative reviews are illegal and can be removed. Negative reviews and positive reviews are normal, but if you notice suspicious negative reviews, there could be a reason to remove a Yelp review to save your business's online reputation.
Let's start.
Criteria to Remove Yelp Reviews
There are five main reasons why a business can remove negative Yelp reviews. You must have a significant reason for the Yelp reviews to be removed when you report review posts.
Fake Yelp Review
Fake Yelp reviews are reviews written by someone who has not used or experienced the product or service being reviewed. These reviews can be found in abundance on sites such as Yelp, and they are often written by people who are either paid to write them or to try to boost their own business. Fake reviews can be removed from Yelp as they are not providing accurate or authentic information.
When you report review posts that are fake or spam reviews, you have to cite how the Yelp review is fake and what information is the truth. Fake reviews or spam reviews can also come from bots or unverified users. When you report fake reviews, provide evidence that the bad Yelp review is fake.
Sometimes bad reviews happen to the wrong business page. If there are bad reviews posted on your Yelp account that should not be directed to you, you can remove bad Yelp reviews directed to other review sites or other online profiles. You can get a Yelp review removed if it is a false review and has nothing to do with your business.
Libelous Yelp Review
Libelous reviews contain false and damaging information about a business or individual. These reviews can be seen as defamatory and are usually written with malicious intent. If a business finds a libelous Yelp review on Yelp, they can contact Yelp and request that it be removed.
Libelous reviews can be taken up legally if Yelp does not remove the negative review. When you spot libelous negative Yelp reviews, make sure to explain how it is libelous and cite sources supporting them being libelous and not just a negative review against your business. You can also check Yelp's guidelines to understand better if your reviews section includes libelous posts
Defamatory Yelp Review
Defamatory reviews contain false and damaging information about a business or individual but do not necessarily contain malicious intent. If a business owner finds a defamatory Yelp review, they can contact Yelp and request that it be removed.
Defamatory negative Yelp reviews are designed to damage your business unjustly. Some businesses cannot tell a negative review or bad review from a defamatory Yelp review. If you are trying to remove the negative Yelp reviews for defamation, you can cite false or damaging information as to why the negative review is defamatory.
Sometimes strongly worded reply posts by unhappy customers can also be considered libelous when they are not factually correct. If an unhappy customer has a genuinely negative experience but posts defamatory material, you can remove a review that damages your business.
Blackmail Yelp Review
A Blackmail Yelp review is a review that threatens a business or individual with negative consequences if they do not comply with the demands of the reviewer. These reviews are illegal and can be reported to Yelp and removed.
A negative review designed to blackmail can also be a reason for you to remove negative Yelp reviews. The negative Yelp review has to contain statements that show obvious or hidden blackmail. You can report this to the Yelp moderators to remove negative Yelp reviews from your Yelp business profile.
You can remove a review when the review violates your business or personal details in the form of blackmail. Contact the Yelp team if there are threats to your business records or other info that goes against your b business policies.
Illegal Yelp Review
An illegal Yelp review is a review that contains content that violates Yelp's terms of service. This can include reviews containing hate speech, symbols, or other prohibited content. Illegal reviews can be reported to Yelp and removed.
Not all negative reviews are illegal. However, when the bad review includes hate speech or extreme prejudice against your business, you can contact the Yelp moderators to have it removed. You can check Yelp's content guidelines to have a Yelp review removed.
Why Positive Reviews are Important
Although you can delete Yelp reviews, your business's online reputation will improve if your Yelp business page is filled with good legitimate reviews. Your business account is very important to maintaining your online reputation. If you suffer from bad reviews, you can remove a Yelp review under the above category.
If you haven't already, claim your Yelp business and other accounts on other review platforms. If your business name has previous brand interactions with another company, you can contact Yelp to help redirect the traffic. Make sure to follow the more detailed instructions to make sure any third-party content regarding your business is actually posted under your profile.
Aside from removing a fake review or bad reviews, it is also important to focus on building a positive online reputation. Your business's reputation relies on review sites, including your Yelp account.
1. Increased Visibility
Positive reviews can help boost the visibility of your business by improving your online presence. This can help draw more attention from potential customers and make it easier for them to find you online.
2. Improved Reputation
Good reviews can help build a positive reputation for your business, as customers will be more likely to trust and rely on a business with good reviews. This can also help to increase customer loyalty and engagement.
3. Increased Revenue
Good reviews can help to increase your revenue, as customers are more likely to purchase from a business with good reviews. This can also help to boost the return on investment for your business.
4. Brand Loyalty
Good reviews can help increase brand loyalty, as customers are more likely to stay loyal to businesses they have had good experiences with. This can help build a stronger relationship with your customers and encourage them to return in the future.
5. Greater Credibility
Good reviews can help boost your business's credibility, as customers are more likely to trust businesses with which others have had good experiences. This can help build trust and loyalty and encourage more customers to purchase from you.
How to Remove a Yelp Review
If you want to remove review posts online on Yelp, how you remove reviews makes all the difference. As a community-driven site, its content guidelines are very customer friendly. As more reviews are posted on Yelp every day, it is important to follow a specific process to get the review removed.
Here's a step-by-step process:
1. Log in to your Yelp Business Account
To delete a review from your Yelp page, you must be logged in to your Yelp business account. You can create an account for free if you do not have an account.
2. Find the Review You Want to Delete
Once you are logged in to your business account, navigate to the Reviews section of your Yelp page. Find the review you want to delete and click on it.
3. Flag the Review for Removal
Once you are on the review page, you will see a flag icon to remove a post. Click this option and select the reason you want to flag the review. If you aren't sure, you can send a direct message to Yelp to ask them if the review can be deleted under your expected violations of their content guidelines.
4. Submit Your Request
Once you have selected why you are flagging the review, click the "Submit" button to submit your request to Yelp.
5. Wait for Yelp's Response
Yelp will review your request and determine whether or not the review should be removed. If Yelp determines that the review should be removed, it will be taken down from your Yelp page. It will remain on your page if Yelp does not determine that the review should be removed.
Why You Should Remove Reviews
Removing reviews from Yelp can be an important part of maintaining the credibility of a business. Here are ten reasons why removing reviews may be necessary:
1. Preventing Defamation
Removing reviews that contain defamatory content can help protect a business from a damaged brand image. If the defamatory review includes clear violations, you can report it directly. However, if the violations aren't clear, clarify when reporting.
2. Avoiding Bias
Reviews should be fair and unbiased, and removing overly biased reviews can help ensure a balanced business assessment. Some customers do not give businesses a second chance to explain themselves. Because of this, you should always ensure that what's said about your business is true.
3. Maintaining Accuracy
Removing incorrect reviews can help customers receive accurate information about a business. Incorrect information, positive or negative, can have a bad effect on your business as you won't be able to meet possible customer expectations. Avoid exaggerations, and remove the reviews that have clearly incorrect statements about your business.
4. Protecting Privacy
Removing reviews that contain personal information can help protect customers' privacy. Even if your personal info is not shared directly, make sure to protect the information of others by reporting posts that share otherwise critical details about a person.
5. Promoting Safety
Removing reviews that contain safety warnings can help ensure that customers are informed of potential risks associated with a business. If your business is on the riskier side of the industry, you can promote accurate safety warnings instead of user-generated ones. The problem with user-generated safety warnings is that they can sometimes be exaggerated and false.
6. Increasing Trust
Removing reviews that contain false or misleading information can help build trust between a business and its customers. When building trust with your customers, accurate and true posts are very important. Some customers are less likely to trust your business if it is filled with fake positive info.
7. Encouraging Honest Feedback
Removing reviews containing content intended to manipulate or mislead customers can help ensure that customers provide honest feedback. When customers see that your comment section is purely organic, they will be more encouraged to leave a review themselves. The more organic review posts you have, the more the algorithm will prioritize your business.
8. Preventing Spam
Removing reviews posted by bots or containing irrelevant content can help prevent spam from cluttering up a business's reviews. Aside from being annoying, these posts can be bad for your business regarding Yelp's algorithm. If it senses too many bots on your profile, it could potentially prioritize other competitors with more organic feedback over yours.
9. Discouraging Fraud
Removing reviews that contain fraudulent content can help discourage customers from engaging in fraud. As long as there is more organic feedback about your business, potential customers are less likely to fall for fraud.
10. Preserving the Integrity of Reviews
Removing reviews intended to manipulate ratings or reviews can help preserve the integrity of reviews. Review integrity is also very important; to preserve it, you must make sure fake, illegal, or any review that violates Yelp's guidelines is removed.
Contact Reputation Sciences
The problem with Yelp is that it does not always grant review removal requests unless they are approached properly. Reputation Sciences has years of experience fine-tuning businesses' online reputation on Yelp, social media, search engines, and anywhere your business name is most likely to appear.
We have trained professionals that specialize in online review management and have helped countless businesses throughout the years. From review removal to reputation management, we've learned the best ways to remove bad reviews on Yelp online
If you've tried and failed or basically don't know where to start, give us a call for your free consultation. We can talk about scrubbing your online reputation squeaky clean, starting with Yelp and to the rest of the internet.
f you own a business and get bad reviews online, it could affect your bottom line. You may have already felt the impact of bad reviews- which prompted you to wonder if you can get Yelp review removed. Fortunately, you're at the right place if you're searching for Yelp review removal. Forbes says that if your business has two negative reviews on the first page of search results, you could lose over 44 percent of your customers.
At three negative reviews, you stand to lose over half your business. On the other hand, a one-star increase could result in up to a nine percent increase in business, according to a Harvard Business School study.
Either way, it's essential to pay attention to what people say about you and your company online. Can you delete your Yelp review? Absolutely! If you're struggling with negative reviews, there are steps you can take for Yelp review removal. Here's what you need to know.
What is Yelp?
Consumers use Yelp to find information, rate stores, write reviews, and post photos. Yelp is the number one business directory online. Over 180 million users worldwide check the site to locate the best places to do business in their town.
They turn to Yelp when they're searching for information about local businesses like:
Restaurants
Hotels
Gyms
Professional services
In fact, 42 percent of consumers purchase on the same day they read reviews. And 25 percent buy something within a few hours. Consumers also add business information to the database.
I Found My Business Listing on Yelp. What Should I Do?
Yelp is free to use, and it's an excellent source for paid advertising. What's more, your business may already have a profile. If so, you need to claim your business listing.
First, search for your company's profile on the Yelp for Business website. Enter your business name and the listing will pop up.
If you don't see an option to claim the page, someone else might have already claimed it. Or the business page may be pending approval.
Either way, you can sign-up and log-in to Yelp. Then give Yelp customer service a call. If you can't verify your claim over the phone through the automated system, you'll receive a prompt to submit a report to Yelp support.
If you have an option to claim the page, click on "Claim Site" or "Add to Yelp for Free." Now you can fill in the accurate information and post photos of the business.
First, verify your business page. Then update the page with accurate information such as:
Phone number
Address
Store Hours
Customer service email
Menu items
Photos
Ultimately, You can help build your brand's image on your Yelp page and link to your other pages online. Use the site to your advantage for free advertisement, even if you've found negative reviews. The more information you list, the better.
Once you've built out your page, you can address any negative reviews.
Yelp Review Removal

 FAQs

How to delete negative yelp reviews? Yelp takes its consumer reviews seriously. The company believes that the best reviews are personal and passionate, with helpful tips for other consumers that reflect the reviewers' experience. To that end, Yelp has guidelines for reviews that they must:
Be an example from personal experience
Accurate to the experience
Can't demand payment to remove the review
Reviews should get updates according to new experiences
The company promotes firsthand experiences, without broad generalizations or allegations, not hear-say. They expect facts and opinions that don't exaggerate an experience.
Reviews should be informative, not threatening, or as a way to get the business to pay to remove it. Yelp also asks that consumers not repost the same information multiple times. Instead, Yelp wants review updates that reflect new experiences and interactions with the business.
What Are Yelp's General Content Guidelines?
Yelp wants its content to be relevant, addressing the customer experience. The site doesn't tolerate inappropriate content, language, threats, bigotry, or harassment. Additionally, a consumer's contributions should be unbiased and objective.
A business shouldn't ask customers for reviews, nor should an owner review their own business to avoid conflicts of interest. Also, it's vital to preserve people's privacy. To that end, never post names or photos of patrons without permission.
If you want to advertise, you need to purchase Yelp advertising and go through a Business Account. Finally, do not take content from other consumers or businesses. Create your own.
If reviews on your business profile violate any of Yelp's guidelines, you have good reason to request a Yelp review removal.
Yelp Review Removal

 Procedure

Yelp wants users to stand behind their reviews and therefore doesn't take sides in factual disputes. However, the company requests that you report them if you see reviews that violate the site's rules and guidelines.

It's also possible that they help in removing some US complaints posts. 

Moderators review the claim. Then Yelp will email you a notification of the results.
How Long Does It Take to Remove a Negative Review?
It can take several days to get the decision. If Yelp determines to leave the review posted, you can file a lawsuit against the reviewer if you believe the remarks are defamatory and untrue.
The website also uses automated software to recommend reviews. This guideline-informed software may determine the review in question isn't reliable enough to recommend.
How Should I Respond to Negative Reviews On Yelp?
If the negative review remains on your profile, responding to the reviewer is the best tactic. You can also direct message them. Simply deleting a valid complaint wouldn't help your company's reputation anyway.
It's essential to respond to negative reviews. Responding illustrates that you care about your customer's experiences with your business and shows that you value their feedback.
Even the most upset customer could change their review or update it to reflect their new experience if you show them you care. Communication is vital to customer service both in-person and online.
Here are a few things to consider when you respond:
Don't take it personally
Reply in your brand voice
Be kind and polite
Don't get emotional
Be brief and helpful
If you need a longer discussion, take it offline. People post negative reviews to have a voice. They want your business to pay attention to their experience.
Make it clear that you want to help, and you're likely to not only flip the review but also win a loyal customer. Of course, some reviews are bogus, and you'll want a Yelp review removal to get rid of them.
How Can I Improve My Business's Online Reviews?
You shouldn't ask customers to review your business on Yelp. The review site is for unsolicited customer reviews. But it's a good idea to encourage your reviews on your website.
Optimize your digital resources, including your:
Website
Social profiles
Blog posts
Emails
You can up your customer service image and provide easy ways for your customers to leave reviews by setting up a directory to your profile pages and comment sections.
Soliciting Customer Reviews
There's nothing wrong with asking your customers to review your business. It shows them you care. The key is in knowing how and when to ask for feedback.
Timing can be everything. Here are some key moments to ask for a review:
At re-purchase or re-order
When a customer refers people
If they express success with your services or products
When they tag your brand ion social media
If they spend a lot of time browsing on your website
The truth is, getting great reviews is about communication and providing excellent customer service. If you build a loyal customer base, you're likely to get the positive reviews you want.
How Can I Build a Better Brand Image Online?
If there is some truth to the negative reviews you found on Yelp, then you're likely to find more of the same elsewhere online. You can repair your image. One great way is to get social.
People read reviews online, and they get together on social media to talk about the brands they love and hate. While businesses used to be skeptical about social media advertising, today, people know that maintaining a social media presence is important.
Your social reputation management is vital to engage your customers and your employees as well. Your team can be a source for great reviews on social media, your website, and sites like Glassdoor.
If you want to build a better reputation, there's no better place to start than on social media. Your fans will like, comment, and share news and reviews. If you have negative reviews on Yelp or elsewhere, new posts and likes will send those old negative comments further down in the search engine results pages.
Create New Content
In addition to engaging with your customers and potential customers on social media, you want to create as much new content as possible. Again, new, rich content will bury those negative reviews and help rebuild your online image. You can build a website, create a blog, post on Medium, and submit guest posts to industry-specific sites.
The key is to listen to what people are saying and let those comments inform your actions. Are they complaining about a return policy, a defective product, or a rude customer service person? You can address those issues with content as well as changes within your organization.
What if I need Help Taking Care of My Online Reputation?
Scouring the internet for negative reviews and mentions is time-consuming. Plus, monitoring your reputation is an ongoing task. There are reputation management companies whose sole purpose is to help your clean up your online image.
Reputation Sciences provides online reputation management services as we audit your digital footprint, accounting for every review, comment, article, and social mention that concerns your brand. Our data-driven SWOT analysis identifies opportunities to improve your online reputation. We also do a complete competitor analysis for an in-depth look into how your online reputation holds up compared to similar brands.
Then we repair your reputation and monitor the results.
Need help managing your negative online reviews and building a better reputation online? Contact our Review Management Team today to learn how we can help.
Call Us Today to learn more about our Online Reputation Management Solutions – ReputationSciences is owned by NetReputation.com