Corporate Social Responsibility (CSR) and Why It Matters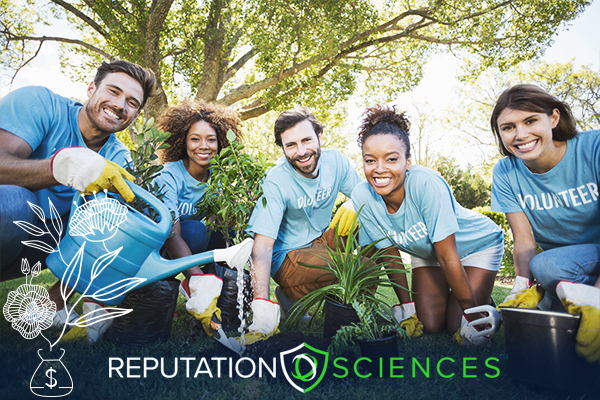 "Companies should not have a singular view of profitability. There needs to be a balance between commerce and social responsibility… The companies that are authentic about it will wind up as the companies that make more money." 
-Howard Schultz
There's a lot of buzz swarming around corporate social responsibility (CSR) these days, not to mention what that phrase means for building an image that resonates with today's socially conscious consumer. 
And because there really isn't a one-size-fits-all approach to social responsibility—particularly in the context of a large corporate environment—it's important to understand what CSR actually is and why it matters for your brand, your company and your bottom line.
Below, we shed some light on what CSR means in today's fast-paced business climate, provide notable examples of corporate social responsibility and offer ways to design and implement a socially responsible strategy that pays off for your organization for years to come.
What is corporate social responsibility (CSR) and why does it matter?
According to Wikipedia, corporate social responsibility is defined as:
"a type of international private business self-regulation that aims to contribute to societal goals of a philanthropic, activist, or charitable nature or by engage in or support volunteering or ethically-oriented practices."
Or, as Business News Daily's Skye Schooley puts it:
"CSR is an evolving business practice that incorporates sustainable development into a company's business model. It has a positive impact on social, economic and environmental factors."
By either definition, corporate social responsibility is the behavior companies engage in to create positive change in the community—a set of actions or even an overarching philosophy brands adopt to make a difference for society and in people's lives. 
You may now have a better sense of what corporate social responsibility is. But as a business leader, you may be wondering, 'what is CSR's real purpose, and why does it matter for my brand?' 
In other words,
Why is corporate social responsibility important?
An effective corporate social responsibility strategy is integral to success and sustainability in today's competitive business climate. A well-designed CSR approach:
Demonstrates a community-first focus that encourages employee buy-in, boosts workplace morale and reduces turnover rates.

Fosters a

positive brand image

that cultivates trust, engagement and sentiment among consumers and stakeholders.

Provides a conduit through which companies can connect and strengthen relationships within local communities they operate. 

Utilizes the power of corporate resources and know-how to give back and help others on a scale not possible otherwise.
It's hard to overlook or dismiss the importance of corporate social responsibility within the modern-day business model. Making an investment in CSR and taking action to involve your company in socially responsible endeavors is not only a good brand-building exercise; it's essential to sustaining a happier workforce and a long-term competitive advantage. 
What are the 4 types of corporate social responsibility?
Generally, corporate social responsibility initiatives are classified into 4 categories. These include philanthropic giving, volunteering support, labor and diversity practices, and environmental conservation.
1. Philanthropic Giving
Corporate philanthropic initiatives typically involve giving money and/or resources to charities and causes at local, national and international levels. Often times, a company will engage in philanthropy that's closely aligned or related to what they do. Examples of corporate philanthropy may include a grocer donating items to local food banks or a tech firm giving money to organizations that promote equal internet access across impoverished communities. 
2. Volunteering Support
Businesses commonly create opportunities for employees to volunteer their time to charitable causes and organizations. Connecting workers with the chance to help on local issues and engage in boots-on-the-ground volunteering not only provides a productive resource of support charities in need; it also helps strengthen the bond and promote synergy between organizations, their employees and the local communities in which they operate. 
An internal CSR program that sets aside a paid day off each month for employees to volunteer is one example of how a company can support such an effort. 
3. Labor and Diversity Practices
Instituting proactive, corporate social responsibility policies that address and adhere to fair labor and diversity practices is integral to strong workplace morale—and for establishing a positive, inclusive corporate culture both employees and leadership are proud to be a part of.
Enacting and sticking to fair labor initiatives while actively condemning unfair labor and trade practices demonstrates leadership's willingness to do what's best for employees. When implemented effectively, socially responsible labor policies strengthen brand credibility among job candidates, your staff and your target audience. 
4. Environmental Conservation
Environmental issues like pollution and climate change are hot-button topics that receive local, national and international news coverage daily. CSR strategies that demonstrate your awareness of such issues and an organizational commitment to eco-friendly policies and behavior are not only recommended but essential to show consumers and staff you take environmental stewardship seriously.
Environmentally-sound corporate social responsibility measures may include:
Reducing your firm's carbon footprint through alternative energy sources.

Using only "green" cleaning products in office and manufacturing applications.

Implementing a site-wide recycling program and actively reducing company waste. 

Partnering with other firms and suppliers who share a commitment to pro-environment practices.
What are some specific examples of corporate social responsibility?
There are countless examples of high-profile brands who have not only engaged in corporate social responsibility, but who have leveraged their considerable influence and resources to make a positive impact on communities worldwide.
Google 
The search giant has long been a leader in socially responsible initiatives, particularly those designed to address poverty, social justice and alternative energy. Not only has Google recently invested $50 million in low-income house construction across the Bay Area; the tech megalith also awards thousands of dollars in ad grants to nonprofits across the world every month. 
In 2017, Google reached its corporate goal of 100% renewable energy sources (wind and solar) for its global operations, becoming the world's largest corporate buyer of alternative energy in the process.
LEGO
LEGO is known the world over as the most popular toy building block company on the market. But what many may not realize is the toy brand's position as one of the top examples of corporate social responsibility on the globe, particularly when it comes to environmental sustainability. 
Between 2013 and 2014, LEGO Group took steps to shrink its packaging by 14 percent, saving about 7,000 tons of cardboard as a result. And by committing more than $160 million in investment to its Sustainable Materials Centre (to find and test new eco-friendlier plastics), joining the WWF's Bioplastics Feedstock Alliance and making a commitment to work toward 100% renewable energy by 2030, LEGO has solidified its position as one of the leading corporate citizens on Earth.
Starbucks
Love them or hate them, it's hard to deny Starbucks' resolve and commitment to sustainable CSR practices–policies that have been a cornerstone of the Seattle company's success for more than four decades.
The global coffeemaker's corporate social responsibility initiative C.A.F.E. (Coffee and Farmer Equity) ensures the company purchases its coffee beans from sustainable sources only, and that the farmers who grow Starbucks coffee are provided safe, humane working environments and adequate living conditions throughout the process. Starbucks' ongoing dedication to sustainable coffee farming and safe work conditions continues to set it apart as an exemplary CSR business model. 
Xerox
2019 marks the ninth straight year Xerox has been named one of Corporate Responsibility Magazine's 100 Best Corporate Citizens, largely the result of the printing giant's wide-ranging commitments in the areas of human rights, environmental sustainability and volunteerism. 
A few examples of the firm's many corporate social responsibility programs includes a widespread cartridge recycling initiative, ongoing involvement in the Electronic Industry Citizenship Coalition (EEIC) and support of numerous volunteer and philanthropic opportunities. 
New Belgium Brewing
The craft beer favorite may best be known for putting a tasty spin on happy hour brews, but the employee-owned New Belgium Brewing Company's devotion to CSR practices is has become somewhat legendary in the beer making trade.
New Belgium has myriad policies and action plans in place to reduce energy use, carbon emissions and waste throughout the brewing process, as well as for sourcing the materials and ingredients that ensure their success. Additionally, the Fort Collins, Colorado-based company has donated millions to the local community and causes it believes in—primarily through a company Grants Program that has received more than $10 million in company donations since its inception. 
Does corporate social responsibility pay off?
In short, yes. Socially responsible corporate citizenship can be a boon for companies seeking to reinforce a positive image, build industry authority and strengthen brand reputation. By establishing an undeniable link between your business and corporate social responsibility, you're cultivating the trust needed to attract and retain quality employees, compel consumers to action and develop a stronger connection with the community.
And with a corporate social responsibility policy baked into your business model, you're better equipped to manage the inevitable attacks and crises your company will face both on and off the web—and to pursue avenues for outreach, growth and increasing revenue more effectively. 
[sc name="button_netrep_app" ]
How does corporate social responsibility increase profits?
Research has shown that responsible corporate citizenship may have a positive impact on sales and profitability. While establishing a direct link between CSR and increased profits can be a challenge, nearly 75% of senior executives believe the consumer sentiment cultivated by corporate social responsibility can lead to lower costs and higher sales for their organization. 
Whether it's philanthropy, human rights or environmental sustainability, more consumers than ever expect companies to use their resources to do the responsible thing—and are much more likely to seek out businesses that share their values. These days, it's hard to overstate the importance of corporate social responsibility not just to your reputation, but as an influential factor in the buyer journey.       
Corporate social responsibility and online reputation management
A good corporate social responsibility strategy can do wonders for your brand, providing a powerful competitive advantage while positioning your firm as an ethical, responsible and proactive contributor to the local community. 
But even the best CSR approach is subject to attack, particularly in an online environment where disgruntled competitors and customers can question your efforts and smear your reputation at any time. 
With vigilant, 24-7 monitoring of your online footprint, you can take steps to head off potential threats quickly—and to ensure the integrity and effectiveness of your CSR program remains intact no matter what is thrown its way.
And with comprehensive online reputation management (ORM), your business has the online repair tools and technology not just to fend off digital negativity, but to build an image that reinforces your social responsibility strategy and protects brand value for years to come.
Learn how ORM can help your CSR strategy today. To schedule a consultation, call Reputation Sciences™ at (844) 458-6735(844) 458-6735.
For the latest digital marketing insight, check out our Facebook and Twitter.