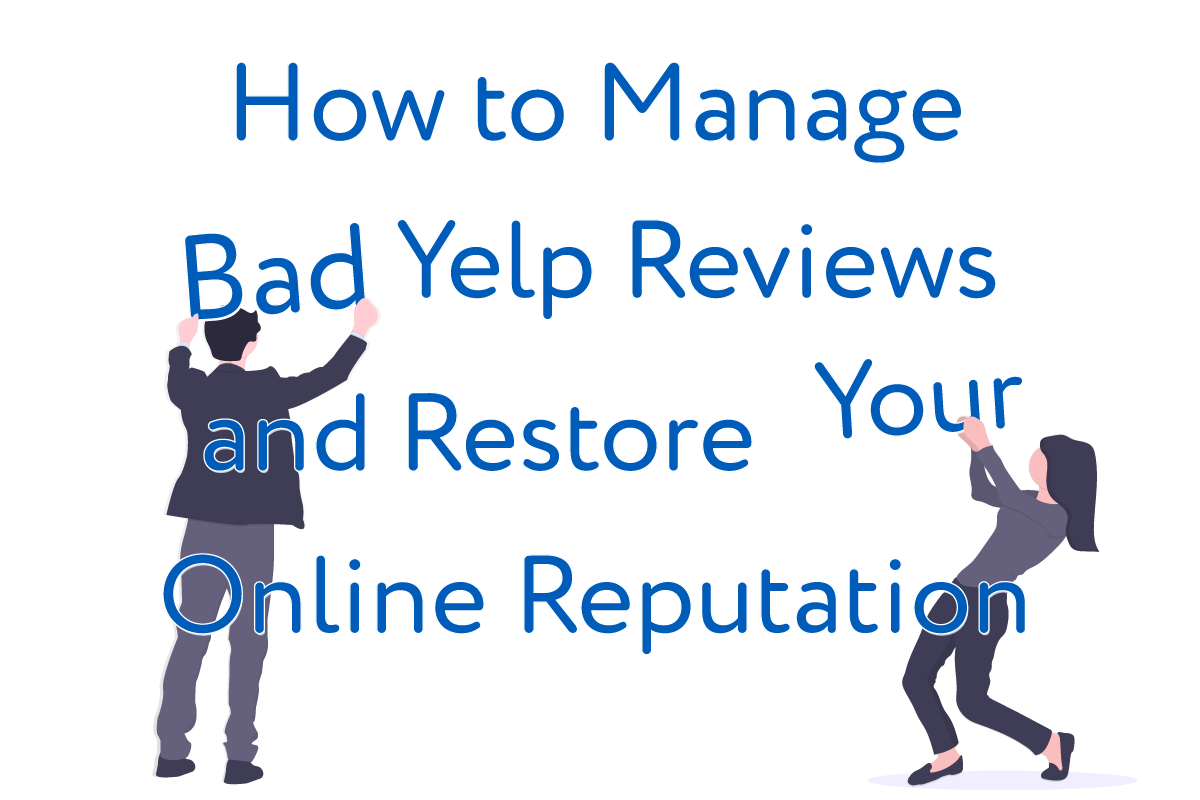 How to Manage Bad Yelp Business Reviews
For local businesses, online reviews matter. 
So much so, in fact, that 72% of consumers won't buy, visit or even contact your company without first checking your reviews. 70% need to see at least four reviews before trusting your brand, while 9 of 10 US customers say reviews are the most important part of the purchase decision.  
And when it comes to reviews, few platforms have the level of impact or influence on customer behavior as Yelp.
Why are Yelp business reviews so important?
Yelp gets nearly 180 million unique visitors across its PC, app and mobile versions every month, making it one of the most highly trafficked review platforms on the web. And a recent survey found that over 45% of local customers read Yelp business reviews before visiting your local company, second only to Google (64%) in terms of where online shoppers learn and research small businesses.
Another study found that businesses that claim and maintain their listing on Yelp see an average of $8,000 additional revenue from the platform every year, demonstrating how an active Yelp presence can benefit your bottom line. 
That said, it's also estimated that losing just one star from your overall Yelp rating can result in a 5% drop in revenue. And the worse your Yelp business review presence gets, the lower you can expect that number to go.
So, how do I deal with bad Yelp reviews?
Repairing the damage left by bad business reviews on Yelp requires an effective review management strategy that will mitigate their impact without undermining your brand and credibility. Whether you're running a local insurance company or managing the diner down the street, the right Yelp review removal and response approach is essential to restoring your presence and strengthening your digital reputation. 
If you're one of the 32% of companies with a 3-star or lower rating, the time to act and improve your Yelp business reviews is now. The longer you let a bad review fester, the harder it gets to pick up the pieces. 
How to manage bad Yelp reviews
A comprehensive Yelp review strategy is key to managing bad Yelp business reviews and improving your overall rating. 
To manage your reviews effectively, your strategy should include elements of:
Yelp listing management

Yelp review removal

Yelp review response
Yelp listing management
Dealing with bad Yelp reviews starts by managing your Yelp business listing. 
Being a proactive Yelp listing manager not only helps take the chaos out of the review response process, but also makes it easier to understand customer interaction, improve engagement with your brand and pivot your strategy when the time is right. 
To take control of your listing, you will first need to claim it. 
How to claim your Yelp business page
Claiming your Yelp listing is a fast and fairly simple process:
Visit the

Yelp for business

page and click 'manage my free listing.'

Locate your company by entering the zip code and name of your business. 

Enter an email and password to create your business account. 

Check your email for a verification code. Once received, enter that code in the prompt to verify your account.  
Once you have successfully claimed your page, you can update your listing with photos, store hours, contact info and other basic info for customers to find when searching your business. 
And now that you "own" that listing, you have a one-stop-shop for changing business details and combing through your Yelp business reviews at your convenience, putting you in a better position to manage negative comments and mitigate problems quickly and effectively. 
Claiming your small business on Yelp can have numerous benefits, not the least of which is the chance to create a more attractive Yelp page for prospects to glean info and learn more about your local brand.
Surprisingly, however, only about 5 million businesses have officially claimed their Yelp listings, leaving many without a potentially powerful tool for connecting with consumers and sorting through customer reviews. For many, this may provide even more incentive to create an account and grab a crucial competitive advantage over those without an active Yelp presence. 
Now that you know how to claim your Yelp listing, it's time to learn another crucial aspect of managing bad Yelp business reviews.
Schedule a Free Analysis
Yelp review removal
Yelp takes its role as a leading business review platform seriously, seeing itself as an important, if not essential, resource of business information for consumers around the world.  Combine that with the site's significant and increasing popularity among local customers, and Yelp is a bit reluctant to remove business reviews, making it difficult to take down comments hurting your brand's reputation.
Can you delete a Yelp review?
Business owners don't have the power to delete unflattering Yelp reviews on their own. In fact, the only way to delete Yelp business reviews is to be the reviewer in question and have access to your Yelp reviewer account. Once logged in, you simply need to sort through your reviews, choose the comment you want deleted and hit 'Remove Review.'
But while deleting reviews is only available to Yelpers, it doesn't mean you're out of options. Much like other review platforms, Yelp offers a step-by-step process for removing malicious or defamatory reviews of your business
How to remove a Yelp business review
To request removal of a questionable review:
1. Log into your business account
You may log into your business account on your desktop, phone or via the Yelp mobile app. 
2. Locate the review you want to remove
Visit the reviews section of your account to find the review in question. 
3. Click on the More Options (…) tab
In the dropdown menu that appears, select the 'Report Review' option to flag the review. 
Once you've reported the review, your request will be evaluated by a Yelp moderator, who will then compare the comment against Yelp's content guidelines. 
The moderator may choose to remove the review if:
It is inappropriate

. This includes any content containing harassment, threats, hate speech and other forms of bigotry. 

It is biased or subjective

. Reviews that are clearly written by business owners, employees, relatives, friends or competitors violate Yelp's conflict-of-interest guideline. 

It is too promotional

. Any Yelp business reviews considered blatantly promotional (commercial) may be removed by Yelp moderators.

It is irrelevant

. Posts that rant about politics, employment practices or anything else not central to the customer experience typically qualify as removable.
It contains private info

. Reviews with people's full names, personal info and "close-up" photos are good candidates for removal.

It is plagiarized

. Content stolen from other users or websites is generally frowned on. 

It demands payment

. Any comments demanding compensation beyond a simple refund can be removed from the site. 
According to Yelp, the evaluation process can take several days, though you can check on the status of your request at any time by moving your cursor over the flag next to the review. Yelp will notify you by email once they have reached a decision. 
Of course, Yelp doesn't have to remove a malicious review, even if it clearly violates the site's Terms of Service and content guidelines. But more so than not, Yelp moderators will remove content that flagrantly disregards the rules.
What if Yelp doesn't approve my removal request?
For whatever reason, if your removal request was denied, you may follow-up or appeal that decision with the Yelp Support team. 
To do so:
Copy the Case Number provided by Yelp in the initial request response. 

Visit the

Yelp Support Center page

and paste that number in the box provided. 

Add any questions you have about Yelp's initial decision, as well as any new information you have regarding the review in question.

Enter your email address and hit 'Send.'
While not very likely, following-up on the original decision may breathe new life into your request, creating the need for additional analysis that could possibly turn things in your favor. You shouldn't get your hopes up, but it doesn't hurt to try. 
So, what's the next step? When removal comes up short or just isn't an option, it's time to move on to:
Yelp review response
You can't always remove negative Yelp business reviews. 
But what you can do is work to mitigate their impact, best done through a carefully planned review response strategy.
So, how can a plan for replying to bad Yelp reviews be good for your brand? 
Well, for starters:
As it turns out, replying to Yelp business reviews isn't just good for managing bad online comments, but for managing your entire Yelp presence. Customers not only expect businesses to respond to reviews, but actually adjust their behavior and how they interact with your brand based on your responses (or lack thereof).  
In turn, this has a direct and very real impact on your bottom line.
When done right, a good response strategy not only takes the wind out of bad reviews, but generates a whirlwind of goodwill that cultivates trust, demonstrates your commitment to customer service and helps transform your Yelp review presence into a (potentially) powerful source of revenue.
The question now is, how do you respond to a negative Yelp review, especially in a way that takes the steam out of its sails? 
How to respond to a bad Yelp review
There are numerous ways to reply to a bad Yelp business review. But developing a positive, measured approach to response is essential to preventing further issues and maximizing opportunity. 
1. Respond quickly 
More than 94% of customers say they have avoided a local business due to a bad review. And as we have already shown, over half of shoppers expect businesses to reply to negative reviews in a week or less. 
More than anything else, these two statistics demonstrate the importance not only of dealing with bad reviews, but of doing so promptly. Tracking your Yelp reviews and making review replies a priority is key to minimizing the damage of negative information – and assuring online prospects you are committed to addressing problems and reviewer concerns as quickly as possible. 
2. Address reviewers personally
Customers don't just want to be heard; they want to be recognized. Addressing reviewers by name (when provided) and referencing their specific issue shows the value you place on their unique concerns, a highly-recommended alternative to the generic greetings ("Dear customer") and form responses with little-to-no personal impact.
Talking to each customer by name should be baked into your Yelp response strategy.
3. Apologize, and take responsibility
Managing online reviews effectively means not only saying you're sorry when things go awry, but also acknowledging the customer's issue and owning the problem in your response, regardless of who is guilty. 
Being contrite and avoiding excuses, even if the incident was exceedingly rare, demonstrates your commitment to high standards and to delivering a great customer experience. Making this approach automatic in each reply also helps avoid the blame game and online escalation that can worsen the issue.
4. Set things right
Doing what you can to make things right isn't just a core principle of Customer Service 101. It's also a strong de-escalation tactic you should include in each review reply. 
Communicating any changes, improvements or solutions you've implemented due to their feedback helps assure you understand the reviewer's problem, take it seriously and are doing everything possible to avoid it from happening again. 
5. Find a solution offline
Offer to speak with the customer and resolve the issue offline. Include your name and business contact info in your reply to resolve the problem elsewhere and reassure the reviewer their experience truly matters to your brand. 
Of course, most reviewers probably won't make the effort. But including the offer in each Yelp business review reply helps reinforce the idea that you really do mean business.
What Is the Next Step?
Need help managing bad Yelp business reviews? 
At Reputation Sciences™, our goal is to give you control of your online review presence. Our reputation and review management experts provide the cutting-edge tools and customized digital solutions your brand needs to manage bad reviews and turn online threats into opportunities for success. 
Visit us or call 844-458-6735 to schedule your Online Reputation and Review Audit. 
Get the latest on #managingnegativereviews and business ORM on our Facebook and Twitter.